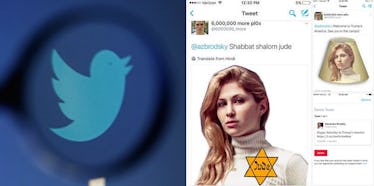 Woman Banned From Twitter For Calling Out Anti-Semitic Trolls Pens Angry Post
REUTERS / Facebook
Alexandra Brodsky started getting tweets from anti-Semitic trolls on Saturday.
They Photoshopped her bio picture. One Twitter user even added the yellow star patch Jewish people were made to wear by Nazis.
The user also put her face on a lampshade, apparently in reference to rumors Nazis made lampshades out of human skin.
That user wrote in a tweet to Brodsky,
Welcome to Trump's America. See you in the camps!
Brodsky reported the anti-Semitic accounts to Twitter on Saturday.
She told Elite Daily it appeared the trolls were targeting Twitter users associated with Know Your IX, a school sexual assault survivors rights advocacy organization that Brodsky had co-founded.
Brodsky took screenshots of the harassment and tweeted them.
She didn't hear anything from Twitter about the accounts she reported. But on Monday, she found Twitter had locked her out of her account.
She was notified that to unlock her account, she needed to delete the tweet of the screenshots.
Brodsky took to Facebook to explain the situation.
She wrote,
So let's get this straight: Twitter still hasn't suspended all the bigots I reported, but they have suspended me for calling out bigotry. I call bullshit.
This is only the latest in Twitter's failure to prevent users from harassment.
Twitter has faced criticism for years over its inability to curtail harassment, even when it's as clearly targeted and discriminatory as the tweets Brodsky was receiving.
Just this Sunday, Twitter suspended Martin Shkreli's account. He had been harassing freelance journalist Lauren Duca.
But his account was only suspended after her appeals to have it taken down went viral.
Brodsky told Elite Daily she screenshotted and tweeted the harassment because she knew of Twitter's poor history in suspending abusive accounts without public appeal.
She said,
[I tweeted because] I wanted to highlight the surge in anti-Semitism tied to Trump and also because it had been very clear that the only way to get Twitter to take action on harassment is to make a little of a public fuss about it.
This was also the latest in a pattern of anti-Semitic harassment related to Donald Trump.
Trump's campaign was marked by its ties to anti-Semitism.
Throughout the presidential election, Jewish reporters were targeted by apparent Trump supporters.
There was an increase in reported racist incidents – which included those that targeted Jewish people – following Trump's win in the election. There has also been a noted rise in blatant anti-Semitism on Twitter.
Brodsky, a Skadden Fellow at the National Women's Law Center, uses Twitter professionally.
So, getting locked out of her Twitter account interrupted her work on Monday morning.
She was in the middle of tweeting as part of the #DearBetsy campaign when she found herself locked out of her Twitter account. It was started by Know Your IX and End Rape on Campus to address Trump's education secretary nomination, Betsy DeVos, on sexual assault survivors rights.
Brodsky was unable to log into her account.
Instead, she received instructions telling her if she deleted the tweet with the screenshots of her harassment, she could unlock the account.
Emails obtained by Elite Daily show Brodsky appealed to Twitter about her locked account.
Her Facebook post about the account suspension also started getting attention. Friends asked in the comments if they could share her story.
People began tweeting screenshots of her Facebook post, asking Twitter why they had locked her account.
Within a few hours of Brodsky's network asking Twitter why they closed her account, her account was unlocked.
An email from Twitter said,
After reviewing your account, it looks like we locked it by mistake.
The email said Twitter "apologize[s] for this error" and included no further information.
Brodsky said,
I'm sure that Twitter took action more quickly because there was a little of a public stink about it. It shouldn't take a public platform for users to participate in public discourse.
Before her account was locked, Brodsky did not hear from Twitter about the abusive accounts she reported.
The only word she received from Twitter were standard automated responses to report notices, and one automated email notifying her one account had actually already been suspended.
After Twitter locked and unlocked Brodsky's account "by mistake" and her story started going viral, she was notified an account she had reported had been suspended because of her report.
Brodsky said,
I'm not pleased it happened to begin with. Clearly Twitter needs policies and employee guidance to ensure that users on the receiving end of harassment don't end up punished.
Twitter did not return a request for comment from Elite Daily.
Citations: Washington Post, New York Times, The Guardian, Time