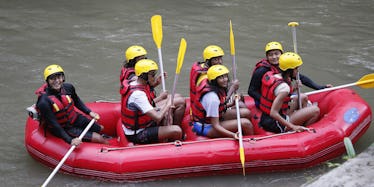 Obamas Continue Epic Vacation Tour With Whitewater Rafting Trip In Bali
MADE NAGI/EPA/REX/Shutterstock
The Obama family has certainly been living it up since leaving the White House in January of this year.
Former President Barack Obama has been to French Polynesia, the Caribbean, Tuscany, and Scotland. Along the way, he's been joined by Michelle Obama as well as by celebs like Tom Hanks, Bruce Springsteen, and Oprah Winfrey.
But this time, Sasha and Malia Obama are along for the ride — and it looks like a bumpy one... in a fun way!
The entire Obama clan is far, far away from America on the Indonesian island of Bali. The Obamas arrived in Bali on Friday, June 23, and are expected to stay until June 28. After that, they're going to travel around more places in Indonesia.
This trip is especially meaning for the family because of Barack's past. He actually lived in Jakarta, Indonesia's capital city, with his mother when he was 6 years old. He moved back to the United States when he was 10, when he lived with his grandparents in Hawaii.
The Obamas put their vacation into high gear on Monday, June 26 with a whitewater rafting trip.
Along with some guides, the whole troupe was in the red raft. Malia sat in the front, Sasha right behind her, and Barack and Michelle took the third row. They went rafting along the Ayung River, according to TODAY.
Michelle and Barack showed off their famously toned arms while paddling through the river.
Meanwhile, Sasha and Malia showed off their famous side-eye as they caught sight of cameras following their trip.
People seem pretty pleased to see the Obamas relaxing — well, as much as you can while whitewater rafting — after spending eight years in a high-stress house.
This sentiment was especially true considering whatever Donald Trump's tweeting about this time.
All of these high-life vacation pics are proving that nobody does breakup chic better than Barack Obama.
Seriously.