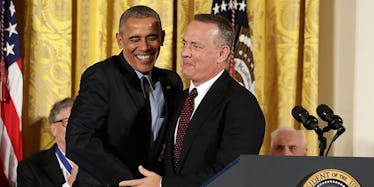 Tom Hanks Explains How He Got 'Screwed' On Vacation With Obama And Oprah
Getty Images
Tom Hanks finally opened up about his fabulous vacation with President Barack Obama, because Tom Hanks gives the people what we want, dammit.
Hanks casually hung out on a yacht in French Polynesia with Barack and Michelle along with Oprah Winfrey and Bruce Springsteen last month.
I'm assuming my invitation got lost in the mail.
This was part of the former president's brilliant scheme to escape to the middle of the ocean for a month as Donald Trump's chaos reigns.
Obviously everyone has been dying to know what exactly went down on that star-packed trip.
Thankfully, Hanks is there to fill us in.
He spoke about the Obama yacht vacation on "The Late Show" with Stephen Colbert.
Although he was frustrated that low-key folks like himself, the Obamas and Oprah couldn't just go on a fancy vacation without everyone finding out, he joked, Hanks said the trip was amazing.
"Imagine what it could've been like -- triple it," Hanks admitted. "It was off-the-scales fantastic"
He added that "every day is just like crazy 'Love Boat,' Sandals resort fantastic." OK, Tom, we get it.
But though most of the vacation was fantastic, Hanks said he got "screwed" at one point -- "in the bad way, in the pejorative way, not in the delightful way."
At one point on the trip, the crew decides to rent some bikes. Aside from the celebs, Secret Service needed bicycles to follow them.
Hanks told the story,
There were some great bikes there, there were some just fine and dandy bikes, and there was one piece of junk, hunk of junk bike. Who do you think got the piece of junk, hunk of junk bike?
Meanwhile, Hanks said, the Secret Service got cool, sleek bikes with bells and leather seats and streamers and everything.
It was not an enjoyable ride for Hanks.
Overall, the trip was a suitably humbling experience for the legendary actor.
Surrounded by other legends, Hanks said he felt "very low on the food chain on that one."
So now we know how to make Tom Hanks feel bad: surround him with the only four people more famous than him in the world.
Unfortunately, Hanks said he couldn't get any government secrets out of Obama, so it doesn't seem like they bonded as much as one could fantasize.
Which, you know, makes me feel better about my invitation getting lost.