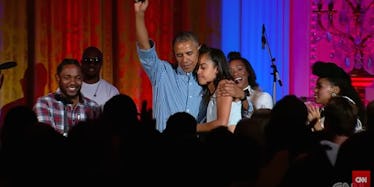 Obama And Kendrick Lamar Singing Malia 'Happy Birthday' Is Too Cute For Words
YouTube
President Barack Obama made sure to take the time to celebrate his oldest daughter Malia's birthday on Monday.
That's right. Malia Obama, America's coolest teen, was born on the Fourth of July -- just in case you needed another reminder of how peak America the Obama family is.
Barack was hosting the annual Independence Day celebration at the White House. The celebration is for military veterans and their families. It was supposed to be on the White House's South Lawn, but was moved inside to the East Room due to rain.
Obama had special guests Kendrick Lamar and Janelle Monáe on stage for the celebration. He took the moment to sing "Happy Birthday" to Malia.
He said,
Because it's the job of a father to embarrass his daughters, I've got one last job. It just so happens that we celebrate our country's birthday on the same day that we celebrate my oldest daughter's birthday.
He broke into an... elegant rendition of "Happy Birthday," with Kendrick and Janelle smiling and singing along.
Malia herself eventually got up on stage and joined her father. She had a grin on her face as she gave her dad a big hug for the song.
Malia turned 18 yesterday. She graduated from high school this year and will be taking a gap year before heading to Harvard University in 2017.
Citations: Obama sings 'Happy Birthday' to Malia with Kendrick Lamar and Janelle Monáe during Fourth of July party (New York Daily News)