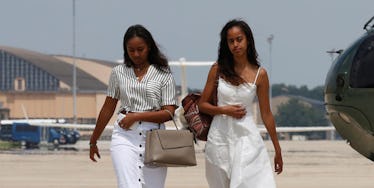 Malia Obama Disappeared On Secret 3-Month Trip And No One Even Noticed
REUTERS
Malia Obama has been keeping a big secret.
Like, a thousand-miles-long secret.
Turns out she took an 83-day trip to Bolivia and Peru this past fall and we didn't even know about it until just now.
I mean, seriously, the ability of the Obama administration to pull that off gives me a whole lot of retrospective confidence in its ability to keep this country safe.
The First Daughter was straight-up not in the United States for nearly three months and no one figured it out. That's impressive.
As it turns out, she was on a trip run by the company Where There Be Dragons, which reportedly costs $14,555.
Where There Be Dragons is a Colorado-based company that runs these educational trips to "examine current political trends, social movements and environmental conservation efforts in the mountains and jungles of Bolivia and Peru," according to their website.
At least now we know what she did on her gap year before starting up at Harvard University this fall.
Malia lived with a family in central Bolivia. The trip features visits to cities, as well as natural and ancient wonders including La Paz, Lake Titicaca and Machu Picchu.
Part of the trip included a five-day hike across the Cordillera Real mountain range in Bolivia, led by guides. The group had some American bodyguards with them, so the guides knew one of the teenagers had to be important.
But they didn't notice Malia. Gregorio Mamani, one of the guides, told the New York Times,
There was a blond girl and we assumed she was the important one.
...which, OK!
Mamani added Malia had no special treatment and did chores like cooking along with her group. He said she was "very humble, chatty, spoke Spanish very well" and "was mesmerized by the Bolivian landscape."
We already knew she spoke Spanish well -- she translated for her dad on their trip to Cuba earlier this year.
Her dad didn't let her go without taking some precautions, of course. He reportedly called President Evo Morales to make sure she was kept secret and safe.
This also explains why Malia didn't make it to her dad's dreaded Thanksgiving turkey pardoning.
So glad we solved that mystery.
Citations: Malia Obama Disappeared for Two Months and Secretly Traveled to Bolivia and Peru: Details (Us), Malia Obama's Secret Trip to Bolivia and Peru (New York Times)