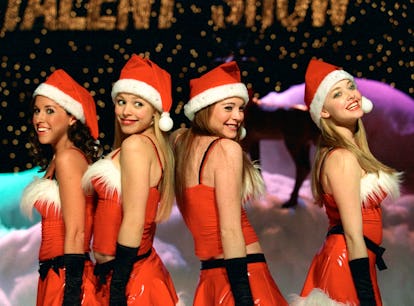 15 Last-Minute Group Halloween Costumes That Are Fun & Creative
Paramount Pictures
Not to scare you but Halloween is creeping up quickly. If you and your friends haven't picked out a costume yet, don't panic. There are plenty of last-minute outfit options you can put together with items you already have at home for the most low-effort, high-reward costumes. These 15 last-minute group Halloween costumes are great to full replicate, or they might spark an idea for an entirely different lewk. Either way, check them out to get the creativity flowing so you can still get to the Halloween party before all the caramel apples (or apple pie shots, if you're 21 or older) run out.
Whether your group is going for a sexy look, a movie reference, or something super simple, these costumes cover all the bases. The best part is that you'll most likely already have all the pieces in your closet waiting to be styled. Think effortlessly chic. These group costumes are made for anywhere from three to 52 people (hello, deck of cards) — props if you can get that many people on board.
Of course, if you're going for a last-minute look, you may need to improvise or explain a little bit about what your costume is. But one people know what you're going for, you'll be rocking in costume as well as if you'd starting planning in August!