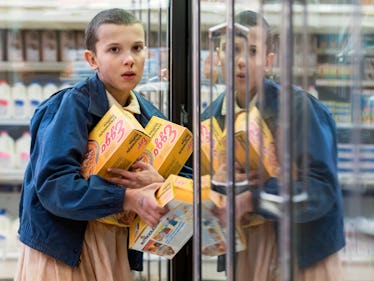 4 Last-Minute Eleven Halloween Costumes To Celebrate 'Stranger Things' & Eggos
Netflix
With Halloween now less than a month out, it's getting down to the wire to shop for your costume for all those parties people will through the weekend of Oct. 27. And with Stranger Things arriving from Netflix on the Friday, we assume all those parties will at least have the new season on in the background, if not front and center. With that in mind, let's look at some last minute Eleven Stranger Things costumes you can wear this Halloween to be topical.
The useful thing about going as Eleven is that it can work as part of a group costume, and it can work on its own. If you have four friends who want to go as Will, Dustin, Mike, and Lucas, Eleven will fit right in. But, Eleven is also a lone-wolf type, who spends a good portion of the series off by herself (not to mention, she ends the first season going into the Upside Down, and not coming back out).
When it comes to dressing like Eleven, we've identified four distinct costume looks that she wears over the course of Stranger Things Season 1: The hospital look, the runaway look, and then the two more iconic looks with the pink dress. All are easy to put together. Just don't forget your box of eggos!
Hospital's Eleven
The most "costumey" of Eleven's get ups is the hospital gown and headgear she wears during the psychic training scenes. The entire kit, which I believe even includes the knee socks, can be bought for $35 at SpiritHalloween.com.
Benny's Burger Eleven
Eleven's less-"costumey" looking outfit, before she gets girlied up, is the one in the burger joint where she steals the fries. Of course, there's not very much to this outfit – it's really just the oversized T-shirt, which you should buy in a large, unisex size so it hits at least mid thigh.
RedBubble.com has the T-shirt in the original gold for $20. If you just want to own the T-shirt for your own wardrobe, they also sell it in a variety of colors, but I would suggest buying a more normal size for that.
"Elle" Eleven
So, there are two different versions of the "pink dress" outfit. The first is the one that Eleven wears to school, where she's wearing the wig and she's as girly as she ever gets.
For the pink dress, there are several versions you can buy floating around the internet, including one on Amazon. But, we feel that the closest one is the version that Hot Topic sells ($50), in terms of being the right shade of pink. The wig is easy to find on Amazon. This one will run you $15 and nicer ones will run closer to $30.
As for socks and shoes, we sort of assume you own white socks and sneakers? If not, chucks are available in nearly every shoe store that sells sneakers and knee socks are easy to find at Wal-Mart and other places.
Eggos Eleven
Then, there's the *other* pink dress look – the one after Eleven leaves school and loses the wig. This is the "Eggo" costume, since it's what she wears in the infamous Eggo shoplifting scene. Again, the dress will run you $50, but you'll need to dirty it up like whoa for authenticity's sake. Add to it a Member's Only style jacket (this one will run you $10 on Amazon), a bald cap, and those striped socks.
Bald caps are available everywhere. Party City sells them for $10. The authentic old-school tube socks will also run you $10 on Amazon, but we assume you can find them cheaper at your local Wal-Mart or Target.