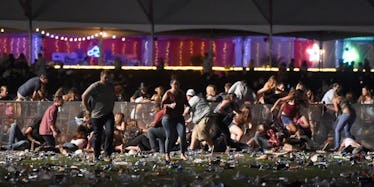 The Las Vegas Shooting Is Already Starting A Debate On Twitter
David Becker/Getty Images
Sunday night's mass shooting during the Route 91 Harvest Festival in Las Vegas, Nevada left 50 people dead and over 400 injured. Not even a day after the Las Vegas shooting, responses about politics show the internet is divided about what should happen next.
UPDATE: Las Vegas Police Department Sheriff Joe Lombardo has confirmed that at least 58 people were killed and over 515 were injured in the shooting. The shooter has also been confirmed dead and is not believed to have a connection to any terrorist group.
EARLIER: At around 10 p.m. on Sunday night, Oct. 1, a gunman identified as a 64-year-old man from Nevada opened fire from the inside of the Mandalay Bay Resort and Casino, according to NBC news. He shot at concertgoers attending the Route 91 Harvest Festival, which was taking place on the Las Vegas Village and Festival grounds, while country singer Jason Aldean was performing.
Witnesses described the tragedy as "nonstop gunfire" and said people just "ran for their lives." Concertgoer Rachel De Kerf told CNN that she believed the gunshots lasted for 10 to 15 minutes. Some witnesses even recorded videos of the shooting, where rapid gunshots are heard and people are screaming at others to get down.
This shooting has officially become the deadliest mass shooting in U.S. history. The gunman's motive is not yet confirmed. "We have no idea what his belief system was," Clark County Sheriff Joseph Lombardo said. "We've located numerous firearms within the room that he occupied."
People are now taking to Twitter to respond to the senseless tragedy, and naturally, there are lots and lots of debates.
Some people are sending their thoughts and prayers to those affected by the Las Vegas shooting.
Other people are criticizing those who are sending thoughts and prayers because more needs to be done.
People are also saying this was an act of terrorism done by a white shooter.
‌
Others are not so quick to use the term "terrorism."
‌
Some people are demanding that we use this tragedy to discuss gun reform.
Others don't believe this is a time to discuss gun reform.‌
It is clear that the shooting is going to spark lots of debates about the meaning of "terrorist," the issue that was at the root of this tragedy, where to go from here, and more, but TBD if any of these debates are actually going to create change. If our country's history with mass shootings says anything, it's that nothing will happen.
Nelba Márquez-Greene, a mother of one of the victims of the Sandy Hook Elementary School shooting, tweeted a powerful response to this tragedy.
Márquez-Greene's 6-year-old daughter was killed in the 2012 elementary school shooting in Newtown, CT. She says in a series of tweets that congress is to blame for the Las Vegas shooting. "This is on every congressperson who said in '13: There is simply nothing we could do,'" she said.
Unpredictable mass shootings like the one at the Route 91 Harvest Festival in Las Vegas are becoming more common in the United States. According to a 2014 FBI study, the number of mass shootings has significantly increased in recent history. Yesterday's Las Vegas shooting is officially the deadliest in US history. Just a little over a year ago, the mass shooting at the Pulse nightclub in Orlando occurred, killing 49 people. It was recorded as the deadliest mass shooting in US history, but now it is the second deadliest. On April 16, 2007, the third deadliest mass shooting occurred in Blacksburg, Virginia, where 32 people were killed at the Virginia Polytechnic Institute and State University campus. The Sandy Hook shooting follows closely behind the one in Virginia, with 20 children and six staff members were killed.
Former President Barack Obama also made a statement on Twitter, using the statement "another senseless tragedy" to reflect the fact that these mass shootings just won't stop happening.
If you're looking for something to do, there are ways to help, including contacting your representatives in Congress.