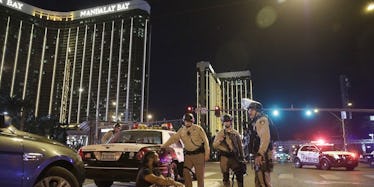 What Is The Route 91 Harvest Festival? Everything We Know About The Las Vegas Shooting Site
AP/REX/Shutterstock
On the evening of Sunday, Oct. 1, there was a mass shooting at the Route 91 Harvest Festival in Las Vegas, Nevada. Over 50 people died, making this one of the deadliest mass shootings in US history. But what is the Route 91 Harvest Festival?
UPDATE: Las Vegas Police Department Sheriff Joe Lombardo has confirmed that at least 58 people were killed and over 515 were injured in the shooting. The shooter has also been confirmed dead and is not believed to have a connection to any terrorist group.
EARLIER: The Route 91 Harvest Festival is a three-day country music festival held in Las Vegas, Nevada every year. This year, it ran from Sept. 29 to Oct. 1 at the Las Vegas Village, an arena in Las Vegas. Concertgoers could purchase a general admission Festival Pass for $210, a Neon Lounge VIP Reserved Seating pass for $650, a Neon Lounge VIP Standing Room Only pass for $375, and a Coca-Cola Suite VIP pass for $750. Each pass comes with different accesses to different facilities in in the arena.
Lots of beloved country singers performed at the festival this year, including Sam Hunt, Jake Owen, Maren Morris,  Big & Rich, Eric Church, Brett Young, Kane Brown, Lee Brice, Michael Ray, Lauren Alaina, Tucker Beathard, High Valley, Tyler Reeve, Dee Jay Silver, Drake White and the Big Fire, Ashley McBryde, and Jason Aldean, whose performance was the site of the mass shooting. The full line-up and schedule is posted on the concert website. Those who couldn't attend the festival could listen to performances streaming on SiriusXM.
A gunman opened fire at the festival from inside the Mandalay Bay Resort and Casino during Jason Aldean's performance on Sunday night just after 10 p.m. local time, according to ABC News. The final night of the Route 91 Harvest Music Festival was taking place across the street. Aldean was headlining.
Jason Aldean posted a heartbreaking statement to Instagram after the mass shooting occurred:
Tonight has been beyond horrific. I still dont know what to say but wanted to let everyone know that Me and my Crew are safe. My Thoughts and prayers go out to everyone involved tonight. It hurts my heart that this would happen to anyone who was just coming out to enjoy what should have been a fun night. #heartbroken#stopthehate
Jason Aldean's wife, Brittany Aldean, also posted an Instagram statement:
We are safe... our angels were definitely watching over us tonight. No words for what happened... Just horrific. Praying for everyone
One witness described the shooting as "nonstop fire." Someone caught a tragic video of the shooting and uploaded it to social media.
Warning: This video is extremely disturbing.
More videos below show the chaos that occurred as the gunman was opening fire at the concert. (These videos are also extremely disturbing.)
Rachel De Kerf, a concertgoer, told CNN she believed the shots lasted for 10 to 15 minutes. "We just ran for our lives," she said.
Monique Dumas, De Kerf's sister, said everyone immediately crouched down when they heard gunfire. "The band was rushed off the stage, the floodlights came on the crowd, and you see on the right hand of the stage the person who was injured, so they're calling for medics, calling for security, then there was gunfire again," she said.
Other concertgoers spoke to Today about what they saw.
The witness said,
Once I came out of the event, there were a lot of people just bleeding everywhere. It was just — didn't know where the blood was coming from, didn't know whose blood it was. There were people carrying people. There were people laying down. It was just, like, one man who was sitting next to me had a bullet hole through his arm. And they just were like, 'We can't help you right now. That's not — we have other people to worry about. Please just wrap it up and please hold still until we can come get you. And that was all they could do for that guy. I haven't seen him in hours.
The shooter has been identified as a 64-year-old man from Nevada, according to NBC News.