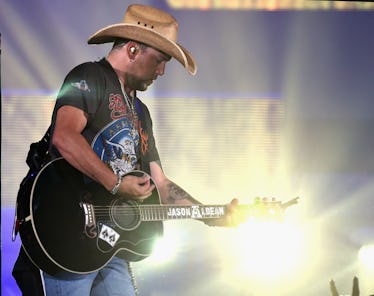 Jason Aldean Shares Emotional Post After Vegas Shooting: "It Hurts My Heart"
Rick Diamond/Getty Images Entertainment/Getty Images
At least 50 people are reportedly dead and over 200 people have been injured after a mass shooting occurred in Las Vegas, Nevada on Sunday, Oct. 1 around 10 p.m. local time. According to reports, the shooting started during Jason Aldean's set at the Route 91 Harvest festival near the Mandalay Bay hotel on the Las Vegas Strip. Jason Aldean's reaction to the Vegas shooting came in the form of an emotional Instagram post early this morning, Monday, Oct. 2. He said in the post,
Tonight has been beyond horrific. I still dont know what to say but wanted to let everyone know that Me and my Crew are safe. My Thoughts and prayers go out to everyone involved tonight. It hurts my heart that this would happen to anyone who was just coming out to enjoy what should have been a fun night. #heartbroken #stopthehate
UPDATE: Authorities confirm at least 58 people died and 515 were injured in the shooting. The shooter has been identified as a Nevada local, he was fatally shot, and this is not believed to be connected to terrorism.
EARLIER: The shooter was reportedly located on the 32nd floor of the Mandalay Bay Hotel when he started shooting into the Route 91 Harvest music festival that was occurring opposite the hotel. The shooter reportedly died on the scene. Las Vegas police say he was a lone shooter, but they are looking for a potential suspect who might know more information about the man, who has been confirmed as a Nevada local.
Sheriff Joseph Lombardo of the Las Vegas Metropolitan Police Department gave a media briefing late on the night of the incident. At the time of the briefing, he confirmed at least 20 people had died in the shooting, but expected that number to rise as more information came in. It is now confirmed that at least 50 people were killed.
Lombardo also said two off-duty Las Vegas police officers were known to be at the concert and believed they might have been killed. Two on-duty officers were injured while responding to the incident, according to Lombardo.
Early on Monday Oct. 2, Lombardo gave another media briefing with updated information on the number of people who were killed or injured.
"Now, the number of injuries, I do not know yet, but we are looking at an excess of 50 individuals dead and over 200 individuals injured at this point," Lombardo said.
Nevada Governor Brian Sandoval responded to the news in a tweet early Monday, Oct. 2. "A tragic & heinous act of violence has shaken the #Nevada family. Our prayers are w/ the victims and all affected by this act of cowardice," he said.
MGM Resorts, owner of the Mandalay Bay Resort and Casino, released a statement responding to the incident on Twitter around 6 a.m. ET on Oct. 2. The tweet said, "Our thoughts & prayers are with the victims of last night's tragic events. We're grateful for the immediate actions of our first responders." The attached statement said,
This evening there was a tragic active shooter situation at the south end of the Las Vegas Strop. Law enforcement and emergency personnel responded quickly to the incident and secured the scene. Law enforcement requested that we put hotels in the vicinity on lockdown to ensure guest safety. We will provide more information as it becomes available.
Celebrities and politicians are taking to Twitter expressing their condolences to everyone affected by the shooting, which is now the deadliest mass shooting in recent U.S. history, according to reports.
President Donald Trump was reportedly briefed on the situation and tweeted in support of the victims.
"My warmest condolences and sympathies to the victims and families of the terrible Las Vegas shooting. God bless you!" he said. According to a statement from the Las Vegas Metropolitan Police Department, an estimated 406 people were transported to hospitals following the shooting.
The shooter was reportedly a 64-year-old white male from Mesquite, Nevada. An estimated 22,000 people were attending the music festival when the shooting began.