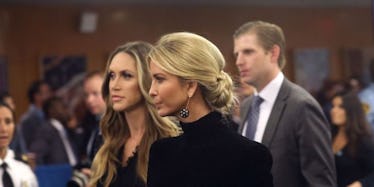 Ivanka Trump Responded To The Las Vegas Shooting, But People Want Her To Address Gun Laws
John Moore / Getty Images
On Sunday night, Oct. 1, a mass shooting in Las Vegas, Nevada, left more than 50 people dead and at least 400 injured. Ivanka Trump responded to the Las Vegas shooting on Twitter, but she is receiving backlash for her response, which some have viewed as inadequate. Many people feel that the president's daughter should be saying more about gun laws.
The shooting occurred after 10 p.m. during a performance at the Route 91 Harvest Festival, and law enforcement officials say the shooter was located in the Mandalay Bay Resort and Casino, firing at concertgoers across the street from inside the hotel. Videos show the gunfire -- which came in at least three rounds, according to The New York Times -- piercing the air as country artist Jason Aldean was on stage. At least 400 people have been taken to the hospital for injuries, CNN reports. Witnesses described the gunfire to CNN as lasting 10 to 15 minutes, followed by a stampede.
The shooter, 64, was identified and is now deceased. Joseph Lombardo of the Las Vegas Metropolitan Police Department told CNN,
We believe the individual killed himself prior to our entry.
Aldean posted a heartfelt response to the news on Instagram, while President Donald Trump and former President Barack Obama, plus countless other celebrities, politicians, and influencers joined the crowd on Twitter to express their sympathies and enter into an inevitable debate about gun control. But Ivanka Trump is drawing her own ire as people are calling on her to do more than just state the obvious and weigh in on that debate herself.
In response to her tweets, many users replied with their own thoughts on the situation and what she should be doing about it.
Others called for policy specifically to address the tragedy. People on Twitter began using the hashtag #GunControl to show their support for legislative restrictions.
Responding to her tweet, another user called out the appointment of Justice Neil Gorsuch to the Supreme Court, who Trump nominated back in January of this year. Gorsuch has made his feelings about the Second Amendment and the right to carry firearms in public clear.
Others called out Trump's rollback of an Obama-era policy that required increased checks for prospective gun owners in an effort to block people with mental illnesses from purchasing guns.
Going one step further, one user called out a tweet that laid out a clear path to take action on gun control, the implication being that the younger Trump use her influence in the White House.
The same user, replying to the same tweet, shared another tweet that named a specific law facing Congress having to do with firearms.
Multiple users also pointed to President Trump's support of the National Rifle Association (NRA). In a speech to the association in April, he promised they had "a true friend and champion in the White House," adding that the "assault" on the Second Amendment was over.
In the simplest possible terms, one user said exactly what most were implying: That Ivanka should be influencing her father.
Others put forward the message of action as well, even using the hashtag #DoSomething.
One user pointed to the statistics of mass shootings in the United States to make their point.
The tone of tweets varied wildly, with some praising Ivanka Trump's kind words and others outright rejecting them. Others pleaded with her to use her White House position for good.
Undoubtedly, more people will continue to weigh in with their thoughts on what the daughter of the president should be doing during this time. But as of publication, Trump herself has not said anything about gun control.