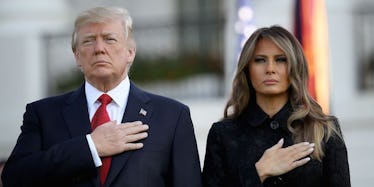 Donald Trump Responded On Twitter To The Las Vegas Shooting "My Warmest Sympathies"
Win McNamee/Getty Images
The Las Vegas mass shooting that occurred on Sunday, Oct. 1, during the Route 91 Harvest music festival is being called the deadliest mass shooting in U.S. history. A little after 10 p.m. local time, a gunman opened fire into the crowd of the outdoor concert, where country singer Jason Aldean was performing. Shortly after, on Monday morning, Donald Trump's response to the Las Vegas shooting was posted to Twitter. As of Monday morning, at least 50 people have been killed and over 400 have been injured, according to CNN.
UPDATE: Las Vegas Police Department Sheriff Joe Lombardo has confirmed that at least 58 people were killed and over 515 were injured in the shooting. The shooter has also been confirmed dead and is not believed to have a connection to any terrorist group.
EARLIER: Details on the horrific situation are still being released from Nevada law enforcement, but multiple outlets are confirming that the shooter of the mass killing was one white man, a Nevada local, who opened fire from the 32nd floor from the nearby Mandalay Bay hotel. It's unclear if the suspect was shot by police or from a self-inflicted wound, but Nevada police have confirmed the shooter is now deceased.
White House Press Secretary Sarah Huckabee Sanders has confirmed that the president has been fully briefed on the tragic situation in Las Vegas, and said the White House was "monitoring the situation closely." Huckabee Sanders said,
We are monitoring the situation closely and offer our full support to state and local officials. All of those affected are in our thoughts and prayers.
Donald Trump echoed a similar statement when he posted a tweet to his public account, which directed his "warmest condolences and sympathies" to all affected by the tragedy. His full tweet reads, "My warmest condolences and sympathies to the victims and families of the terrible Las Vegas shooting. God bless you!"
In past national tragedies, Trump has been criticized for his responses, like during the domestic terrorism incident in Charlottesville, when Trump said during a press conference that there were "fine people" on both sides of the protests in Virginia, even though one side was full of Nazi white supremacists. However, it appears Trump's response to the horrific shooting in Las Vegas was standard, and Twitter is seeing many similar reactions.
Trump is expected to make a national address to the United States on the terrible Las Vegas attack later today.
Former President Barack Obama also tweeted Monday morning that he and Michelle were praying for the victims. Similarly to Trump, he stated his thoughts were with the families affected by the "senseless tragedy."
Victims who were present at the shooting describe how the crowd initially thought the pops from the shooter's gun was fireworks. Once they realized it was gunshots, multiple victims are stating the shots seemed endless and would occur in 10 second increments for about 10 to 15 minutes total.
Around 30,000 people were in Las Vegas for the Route 91 Harvest festival, which was in its final day of the three-day event on Sunday night. The gun shots began while country singer Jason Aldean was performing on the stage. Aldean and his crew were able to exit the stage safely as concertgoers were forced to make sense of the confusion.
After the incident, Aldean posted a heartfelt message to his Instagram account describing that he and his crew were safe, but expressed he still couldn't fully make sense of what happened. He said on his Instagram account,
Tonight has been beyond horrific. I still dont know what to say but wanted to let everyone know that Me and my Crew are safe. My Thoughts and prayers go out to everyone involved tonight. It hurts my heart that this would happen to anyone who was just coming out to enjoy what should have been a fun night. #heartbroken #stopthehate
Of course, as with any mass shooting in the United States, discussions of gun control measures eventually come up. Just last year, Democrats staged a 24-hour sit in to demand action be taken and gun control reform be made in Congress, with little success. We can expect similar conversations to be brought up and debated again, after this horrific tragedy settles in to the thoughts of Americans for the rest of the day.