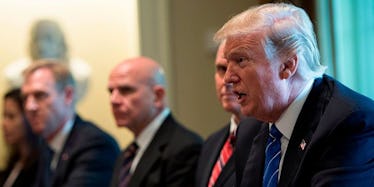 Congress Just Passed A Bill That Would Force Trump To Condemn White Supremacy
BRENDAN SMIALOWSKI/AFP/Getty Images
On Monday, Sept. 11, the Senate passed legislation that condemns white supremacists, apparently in response to protests from similar groups in Charlottesville a month ago. On Tuesday, the House of Representatives gave its seal of approval, passing its own version of the legislation, creating a joint resolution between the two chambers of Congress. Now, the bill has been sent to the White House where, if signed, it would see President Donald Trump condemn white supremacy.
The key word is "if."
Whether or not President Trump actually will sign the bill is unclear at this point. Elite Daily has reached out to the White House for comment, but did not hear back at time of publication.
What is clear, however, is the intent of both Democratic and Republican members of Congress.
Usually, resolutions from Congress are meant to express the stance of Congress alone on a certain issue. However, because this recent bill -- regarded by some congressmen as the "Charlottesville Resolution" -- was framed as a joint resolution, a president's signature is required.
In other words, the bill is structured in a way that would force Trump to endorse action that ostensibly rebukes white supremacist groups, just weeks after the president was criticized by members of both major parties for not doing so.
During his initial response to the white supremacist protests in Charlottesville, Virginia, which turned violent after those groups clashed with counter-protesters, the president made remarks that were scrutinized as an evasion of confronting racist groups.
We condemn in the strongest possible terms this egregious display of hatred, bigotry and violence, on many sides. On many sides. It's been going on for a long time in our country. Not Donald Trump, not Barack Obama, this has been going on for a long, long time. It has no place in America.
It would later be reported that the president ad-libbed the mention of "many sides," which was key to the perception that he was purposely avoiding a specific condemnation of neo-Nazi groups.
Three days later, the president doubled down on those much-criticized remarks, telling reporters,
Yes, I think there's blame on both sides.  If you look at both sides -- I think there's blame on both sides.  And I have no doubt about it, and you don't have any doubt about it either. And if you reported it accurately, you would say.
After a reporter interjected, Trump added,
Excuse me, excuse me.  They didn't put themselves -- and you had some very bad people in that group, but you also had people that were very fine people, on both sides.  You had people in that group.
The language of the Charlottesville Resolution takes a drastically different tone. The bill specifically condemns "white nationalists, white supremacists, the Ku Klux Klan, neo-Nazis, and other hate groups" and "urges the President and his administration to speak out against hate groups that espouse racism, extremism, xenophobia, anti-Semitism and white supremacy."
The joint resolution also honors Heather Heyer, the woman who was killed after a car rammed into a crowd of counter-protesters in Charlottesville, along with two Virginia state troopers who also lost their lives on the day. In addition, the bill regards the attack that took Heyer's life as an act of "domestic terrorism" and calls on Attorney General Jeff Sessions to investigate it as such.
The House version of the Charlottesville Resolution was introduced by Rep. Tom Garrett, a Republican congressman from Virginia who represents a district that includes Charlottesville. The bill had support from both Democratic and Republican members of the House who are also from Virginia.
As of Wednesday morning, the White House has yet to officially comment on whether the president will sign the joint resolution.