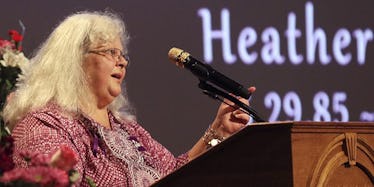 Charlottesville Victim's Mom Slams Trump: "I'm Not Talking To The President Now"
Pool/Getty Images
The mother of the protester who died in Charlottesville last weekend slammed President Donald Trump and said she no longer wants to meet with him. Susan Bro, mother of deceased 32-year-old Heather Heyer, explained her decision while being interviewed by ABC's Good Morning America on Friday, Aug. 18. During the interview, Heather Heyer's mom responds to Trump's remarks on the protest that led to her daughter's death, saying,
I'm not talking to the president now, I'm sorry. After what he said about my child -- and, it's not that I saw somebody else's tweets about him. I saw an actual clip of him at a press conference equating the protestors like Ms. Heyer with the KKK and the white supremacists.
As host Robin Roberts noted, the mother had previously thanked President Trump after his press conference on Monday, during which he delivered a specific, targeted condemnation of white supremacy.
A day later, however, the president reverted to his initial stance on the protests, and delivered yet another press conference that was widely received as a defense of white supremacist demonstrators.
When asked to clarify whether that press conference on Tuesday changed her mind, the mother said,
Absolutely. You can't wash this one away by shaking my hand and saying I'm sorry. I'm not forgiving for that.
The segment during which Susan Bro explains her decision can be seen in the video below:
Who was Heather Heyer?
Heather Heyer died on Saturday, Aug. 12, after a car rammed into a crowd of demonstrators in Charlottesville, Virginia. Heyer had been there to protest against white supremacist groups who had been protesting a decision to remove a statue dedicated to Confederate Gen. Robert E. Lee.
A friend of Heyer's told the New York Times,
We were just marching around, spreading love — and then the accident happened. In a split second you see a car, and you see bodies flying.
Her funeral was on Wednesday, which is the day Heyer's mother says the White House first tried to get in contact with her.
The suspected driver is 20-year-old James Alex Fields Jr., who was charged with second-degree murder, the Times reported.
On the same day as the attack, president Trump condemned hatred and bigotry displayed by "many sides." He echoed that same sentiment on Tuesday, and permanently turned Heyer's mother off.
Susan Bro won't meet with the president now. On Friday, she made it clear why.