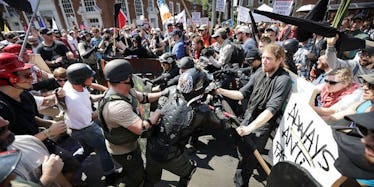 People Are Outraged About Trump's Response To Charlottesville Violence
Chip Somodevilla/Getty Images
Donald Trump addressed the violence in Charlottesville, Virginia, at a press conference on Saturday afternoon, and people aren't happy. Addressing the clashes at a white nationalist rally which has left at least one person dead, Trump condemned bigotry and violence "on both sides." In the same speech, he said that the kind of violence seen in Charlottesville was an ongoing issue in America, and predated his administration.
Trump made his remarks at a press conference in Bedminster, New Jersey, which had been scheduled for him to sign The Veterans Affairs Choice and Quality Employment Act of 2017. But after reports of clashes at an alt-right rally in Charlottesville, he instead began his remarks by addressing the violence.
He said,
We condemn in the strongest possible terms this egregious display of hatred, bigotry, and violence. On many sides. Many sides. This has been going on for a long time in our country. Not Donald Trump, not Barack Obama. It's been going on for a long long time.
His comments came shortly after confirmation that one person had died in the violence. Though there was no confirmation as to how the death had occurred, a car that ran into a crowd of protesters left multiple injuries. A graphic video showed the moment the car hit the crowd. It also came the day after a march of torch-carrying white nationalists at University of Virginia ended in violence, when marchers surrounded a group of counter protesters, yelling slurs before fighting broke out according to video.
On social media, many people were furious that Trump tried to play the violence as some kind of "both sides take some blame" scenario.
Many also noted that Trump avoided using the words "white supremacy" or "white nationalism."
It was despite the fact that Ku Klux Klan leader David Duke, said that white supremacists were at the rally to fulfill Trump's promises.
"We are determined to take our country back," Duke said. "We're going to fulfill the promises of Donald Trump."
Trump also refused to answer a question at the press conference about whether he wanted the support of white nationalist groups.
When pressed on whether he thought he had denounced them strongly enough, he ignored reporters and walked out of the room.
Shortly after, Trump posted a clip of his remarks to Twitter.
The caption quoted the speech. "What is vital now is a swift restoration of law and order and the protection of innocent lives," he tweeted, with the hashtag #Charlottesville.
He didn't, however, add anything to his statement.