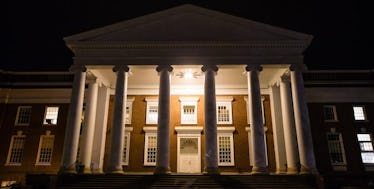 Twitter Is Absolutely Roasting This Dumb Photo From The UVA Alt-Right March
Zach Gibson/Getty Images
Welcome to 2017, where America is wondering whether we're going to see nuclear war and white nationalists are marching in Southern towns. On Friday night, a crowd of hundreds of white supremacists and far-right advocates with torches gathered at the University of Virginia campus in Charlottesville, Virginia. But as mind-boggling and disturbing as it is that we're still dealing with issues of racism and white supremacy in 2017, there are some small rays of light: like just how ridiculous this photo from the alt-right rally at UVA on Aug. 11 is.
Demonstrators gathered at a local park and marched to the UVA campus, chanting phrases like, "you will not replace us" and "blood and soil,"  according to The Guardian.
When they reached a group of counter-protesters centered around a statue of Thomas Jefferson, a fight ensued: the counter-protesters said they were attacked with torches, pepper spray, and lighter fluid. Photos of the event showed people suffering the effects of pepper spray, and one protester told The Guardian that the counter-protesters had been completely surrounded, with no means of escape.
But as horrifying as the situation is, there's one thing that's caught people's eye. And not for the intimidating, take-us-seriously way that the alt-right mob might have preferred.
Nope. Instead, Twitter is absolutely roasting the marchers for this ridiculous photo.
This photo. Every single guy in this photo looks like they're super mad they just got rejected for the role of Pete Campbell on Mad Men.  The number of polo shirts alone is overwhelming. And what's with the tiki torches, guys? Did you all meet up at Crate and Barrel beforehand to pick up supplies?
Twitter noticed.
The tiki torches in particular got a lot of attention.
How many of them do you think were actually citronella candles?
But for those on the ground, it was another story.
While many mocked the ridiculousness of a group that wants so badly to be taken seriously, for protesters on the ground the risk was real.
A video from counter-protester Emily Gorcenski, who The Guardian identified as one of those encircled, showed what it was like to be there. A live-streamed video shared to Twitter showed what appear to be alt-right marchers surrounding the counter-protesters and screaming slurs. In the final seconds of the 34-minute video, violence appears to break out.
A second video, taken from another angle, shows marchers closing around the counter-protesters, and torches being thrown. A chant of "black lives matter" is heard for a moment, before being drowned out.
The violent rally was just the start for a series of planned alt-right events in Charlottesville.
On Saturday, white nationalists are expected to gather for a "Unite The Right" rally to protest the removal of a statue of Confederate general Robert E. Lee, according to The New York Times. Authorities said that they were prepared for "unrest" and the Virginia National Guard is standing by.