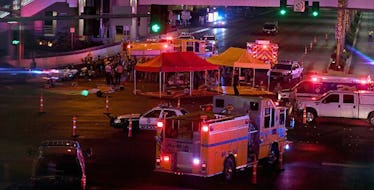 Here's Everything We Know About The Mass Shooting At Las Vegas Concert
Ethan Miller / Staff
On Sunday night, Oct. 1, a mass shooting occurred at a concert festival in Las Vegas, Nevada, leaving over 50 people dead and 200 people injured. Updates about the Las Vegas shooting are leaving the nation heartbroken. Here's everything we know.
UPDATE: Las Vegas Police Department Sheriff Joe Lombardo has confirmed that at least 58 people were killed and over 515 were injured in the shooting. The shooter has also been confirmed dead and is not believed to have a connection to any terrorist group.
EARLIER: Just after 10 p.m. local time on Sunday night, country lovers gathered at the Route 91 Harvest Festival outside the Mandalay Bay Resort and Casino. During the concert, the gunman – who was later identified by law enforcement as a "local resident" – opened fire on concertgoers who were outside the hotel. As reported by ABC News, one witness said there was "nonstop gunfire," and bystanders had to run away, hide, and duck for cover. According to The New York Times, the Las Vegas shooting is now one of the deadliest mass shootings in US history.
Weapons were found in the shooter's room on the 32nd floor of the Mandalay Bay and Casino. According to CBS News, Clark County Sheriff Joeseph Lombardo says the shooter is believed to be "a solo actor. A lone wolf." The shooter was fatally shot at the Mandalay Bay resort, Lombardo said in a news conference on Monday morning. The Las Vegas shooting is not believed to be connected to terrorism, as reported by NBC News.
Video footage of the shooting shows concertgoers screaming at each other to duck for cover at the moment gunfire erupted. According to The New York Times, there were least three bursts of gunfire, and the SWAT team responded immediately. The shooting happened during a performance by singer Jason Aldean. Gunshots lasted between 10 and 15 minutes, according to concertgoer Rachel De Kerf who spoke with CNN. De Kerf's sister, Monique Dumas, described the terrifying moment gunshots were heard:
The band was rushed off the stage, the floodlights came on the crowd, and you see on the right hand of the stage the person who was injured, so they're calling for medics, calling for security, then there was gunfire again.
Another concertgoer, Meghan Kearney, told MSNBC:
We heard what sounded like firecrackers going off. Then all of a sudden we heard what sounded like a machine gun. People started screaming that they were hit. When we started running out there were probably a couple hundred [people] on the ground.
In the video below, you can hear a witness tell ABC,
One young man passed away as we were carrying him out … We had him in the ambulance, we were loading him in the ambulance and the guy said 'let's set him down here,' So, I set him down with myself and the young man passed away … It's been a tough night … So many people died and are wounded. It's very sad … I'm glad some people are safe and it's a terrible tragedy. I don't know what other words you could use for it.
No specific names of the victims have been shared yet, but the Las Vegas Metropolitan Police Department did confirm that an off-duty police officer was killed during the shooting.
Jason Aldean wrote to fans on Instagram,
Tonight has been beyond horrific. I still dont know what to say but wanted to let everyone know that Me and my Crew are safe. My Thoughts and prayers go out to everyone involved tonight. It hurts my heart that this would happen to anyone who was just coming out to enjoy what should have been a fun night. #heartbroken#stopthehate
President Donald Trump responded to the news on Twitter, writing,
My warmest condolences and sympathies to the victims and families of the terrible Las Vegas shooting. God bless you!
Barack Obama wrote to followers on Twitter,
Michelle & I are praying for the victims in Las Vegas. Our thoughts are with their families & everyone enduring another senseless tragedy.
Our thoughts and prayers are with the victims and their families during this time.