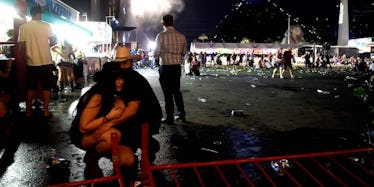 Off-Duty Police Officer Is First Confirmed Dead In Tragic Las Vegas Shooting
David Becker/Getty Stringer
A mass shooting in Las Vegas, Nevada has injured at least 100 and claimed the lives of over 50 people, making it the deadliest in U.S. history. On Sunday, Oct. 1, just after 10 p.m. local time, a gunman opened fire during the Route 91 Harvest Festival while country singer Jason Aldean was performing. The gunman reportedly fired at concertgoers from a room inside the Mandalay Bay Resort and Casino and died at the scene, according to the Associated Press. People around the world are mourning the victims in the Las Vegas shooting.
Update 4: Rachel Parker, 33, has been named a victim of the Las Vegas shooting. She was a records technician for the Manhattan Beach police.
Angela "Angie" Gomez also died in the shooting. She was a 2015 Riverside Polytechnic H.S. graduate.
Sandra Casey was a Manhattan Beach Middle School special education teacher who was fatally wounded in the shooting.
Disney CEO Bob Iger confirmed Disneyland employee Carrie Barnette was one of the victims of the Las Vegas shooting.
Lisa Romero-Muniz of New Mexico was a secretary for Gallup-McKinley County Schools. She is confirmed dead.
Bailey Schweitzer, 20, was attending the festival with her mother and was fatally shot.
Las Vegas resident Neysa Tonks was killed in the shooting. She leaves behind three children.
Jennifer T. Irvine was a San Diego lawyer who was vacationing in Las Vegas when she was killed.
Massachusetts native Rhonda LeRocque was confirmed dead by her family.
Susan Smith, 53, was an office manager in a California elementary school. She was married and leaves behind two children.
Jenny Parks was visiting her brothers Las Vegas with her husband when she was killed. Her husband was injured but is expected to recover.
Hannah Ahlers, 35, was a resident of Murrieta, California. She leaves behind a husband of 16 years and three children.
Thomas Day Jr. was attending the festival with his four children when he was killed. He was 54.
Denise Burditus was killed while enjoying the festival with her husband of 32 years. She was a mother of two.
Charleston Hartfield was a 34-year-old police officer who was off-duty when he was fatally shot at the festival. He was also a military veteran.
Dana Gardner, 52, of San Bernardino County, was attending the festival with one of her daughters when she was shot and killed.
Adrian Murfitt of Anchorage, Alaska, died in his friend's arms at the festival. He was 35 years old.
Librarian Jessica Klymchuck leaves behind four children and her fiancé, Brent Irla. The two got engaged in April.
John Phippen, 56, was at the concert with his son when a bullet struck his lower back. He later died from his injuries.
Update 3: A third victim has been confirmed dead in the Las Vegas shooting. CBC News reports 23-year-old Jordan McIldoon of Maple Ridge, British Columbia, was killed in the attack. His parents confirmed their son's death, saying, "We only had one child. We just don't know what to do."
Update 2: The first victims are being named in the tragic Las Vegas shooting. According to Newsweek, 20-year-old Quinton Robbins was killed in the shooting. He was a student at the University of Nevada-Las Vegas.
The Paris Post Intelligencer reports Sonny Melton was another victim of the shooting. He was a resident of Tennessee and a nurse.
Update 1: Las Vegas Police Department Sheriff Joe Lombardo has confirmed that at least 58 people were killed and over 515 were injured in the shooting. The shooter has also been confirmed dead and is not believed to have a connection to any terrorist group.
EARLIER: While no specific names have been shared yet, the Las Vegas Metropolitan Police Department has confirmed that one of the deceased was an off-duty police officer.
Witnesses at the scene have been describing the events on Twitter and to news stations covering the shooting. One witness told ABC, "One young man passed away as we were carrying him out ... We had him in the ambulance, we were loading him in the ambulance and the guy said 'let's set him down here,' So, I set him down with myself and the young man passed away ... It's been a tough night ... So many people died and are wounded. It's very sad ... I'm glad some people are safe and it's a terrible tragedy. I don't know what other words you could use for it."
The Associated Press also spoke to a witness named Kodiak Yazzie, who recounted what happened when the first shots were fired at the festival.
It was the craziest stuff I've ever seen in my entire life. You could hear that the noise was coming from west of us, from Mandalay Bay. You could see a flash- flash- flash- flash.
Other witnesses spoke to The Today Show about the incident. They said,
Once I came out of the event, there were a lot of people just bleeding everywhere ... Didn't know where the blood was coming from, didn't know who's blood it was ... There were people laying down ... One man was sitting next to me who had a bullet hole through his arm, and they just were like 'We cant help you right now ... we have other people to worry about. Please just wrap it up and please just hold still until we can come get you.'
It has also been confirmed that law enforcement responding to the scene were among those injured. According to the Las Vegas Metropolitan Police Department, two on-duty officers were injured. One had surgery and is in stable condition, and the other had minor injuries.
The gunfire started during a set from country crooner Jason Aldean. Aldean has since posted on Instagram about the devastating event, saying,
Tonight has been beyond horrific. I still dont know what to say but wanted to let everyone know that Me and my Crew are safe. My Thoughts and prayers go out to everyone involved tonight. It hurts my heart that this would happen to anyone who was just coming out to enjoy what should have been a fun night. #heartbroken #stopthehate
President Donald Trump has also taken to Twitter to offer his condolences to the victims and families affected in this horrible tragedy. He said,
My warmest condolences and sympathies to the victims and families of the terrible Las Vegas shooting. God bless you!
For those looking to help victims, the LVMPD is asking anyone who would like to donate blood for the injured victims to visit the Labor Health and Welfare Clinic.
Our thoughts and prayers go out to the victims, and families and friends of the victims, in this terrible tragedy in Las Vegas. For anyone searching for missing loved ones that were believed to be at the Route 91 Harvest Festival in Vegas, the LVMPD has set up a hotline at 1-866-535-5654.