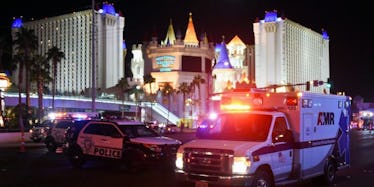 These Are The Worst Mass Shootings In The History Of The United States
Getty
On Sunday, Oct. 1, a gunman open fired from a Las Vegas, Nevada hotel at a large outdoor concert festival near the Mandalay Bay Resort and Casino. At least 58 people were killed, and at least 500 more have been wounded in this tragic attack. Officials say that the incident was one of the worst mass shootings in U.S. history.
The location of the attack was the Route 91 Harvest Festival -- a three-day outdoor country music festival at Las Vegas Village and Festival Grounds. The site of the concert is over 15 acres and has a capacity of 40,000 people. The festival's website said that all three days of the event were sold out this year.
Country singer Jason Aldean was the last performance of the festival on Sunday night. He was in the middle of performing a song when the concert was interrupted by the piercing sound of gunfire, after which point the scene erupted in mayhem.
The first reports of the shooting were at 10:08 p.m. local time, and SWAT teams flooded the hotel immediately after. Officials reported no more active gunmen around midnight.
Tragic and unpredictable mass shootings such as this one are, unfortunately, becoming more and more common in the U.S. A 2014 FBI study revealed that the number of mass shootings has significantly increased in recent history.
From schools, to churches, to nightclubs, to restaurants, and of course, concerts, it is alarmingly numbing that tragic attacks continue to occur in these everyday locations, where any one of us could find ourselves on a given night.
A little over a year ago, on June 12, 2016, the Orlando, Florida shooting occurred at Pulse nightclub, claiming the lives of 49 people and injuring over 50 more. At the time, the the incident had marked the deadliest mass shooting in U.S. history, but after the tragic events that unfolded last night in Las Vegas, it is now the second deadliest in recent history.
No matter where these shootings occur, they are all equally devastating and incredibly tragic. But the fact that we continue to see these events unfold in what we expect to be harmless settings like nightclubs and concerts -- where people come to simply express and enjoy themselves -- is, without a doubt, nothing short of disturbing and chilling.
The third largest mass shooting in U.S. history, closely following Orlando, occurred on April 16, 2007, at Virginia Polytechnic Institute and State University campus in Blacksburg, Virginia.
The gunman killed 32 people, opening fire first at a dorm building and then in a classroom setting. Soon after the massacre, the gunman — who was, himself, a student at the school — took his own life.
The Sandy Hook Elementary School shooting, which took place on Dec. 14, 2012, follows closely behind Virginia Tech. 20 children and six adult staff members at the school were killed that day.
The casualties seen in the Orlando shooting greatly exceeded the shooting at Virginia Tech, and even further outnumbered that of the 2012 shooting in Sandy Hook. Now, after last night's mass shooting in Las Vegas, it seems that the number of lives lost in these types of attacks continues to increase as time goes on.
Our hearts go out to those who have been affected in every single one of these mass shootings, and especially to those who have been affected by what just happened in Las Vegas as we all attempt to make sense of these devastating events.
If you want to help out during this tragic time, blood donations are at the top of the list. As the number of victims climb, so does the need for those donations.
However, if you're unable to give blood, another way to help is by contacting your congressmen and congresswomen to speak out about gun control reform.
If you want to begin helping the victims and others who have been affected by the mass shooting in Las Vegas, you can learn more here.