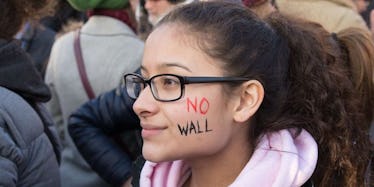 Border States Are Already Preparing For The Wall, And You Probably Didn't Notice
Rex/Shutterstock
Donald Trump may have gotten his new Muslim ban turned down, but he is not even close to being done with immigration.
Ladies and gents, the not-so-great border wall is happening.
The Trump administration is making moves to enact at least some part of its border protection plan with last night's proposal of $4.1 billion for the wall.
Companies are ready to get started on the project.
All the world's "Bob the Builders" are coming from all over to help Donald Trump build his border wall because: shmoney.
The LA Times reports 600 companies have signed on to build prototypes for the project. Almost 100 are from California, although the city of Oakland proposed a boycott against any companies willing to make a deal with The Donald.
Texas residents are being offered money for their land from the government.
A family in Texas has already received a land condemnation letter.
Yvette Salinas of Los Ebanos received a letter addressed to her ailing mom from the U.S. Department of Homeland Security. The document, labeled as a "Declaration of Taking," offers $2,900 for 1.2 acres of their 16 acres of land.
Land can still be seized, even if residents don't oblige.
The government can still seize the land through eminent domain, though the family would still receive payment.
Salinas shared with the Texas Observer,
It's scary when you read it. You feel like you have to sign.
And this isn't the first time the government has gone after their land.
In 2008, the Bush administration sent a condemnation notice that offered $2,900 to the family. Other households in the area also received the notices.
Instead of signing, the Salinas family waited it out and with the change in administrations (from Bush to Obama)— the wall was no longer an issue.
Waiting out the government is likely a no-go this time, because President Trump has a lot more to prove.
Unlike George Bush Jr., immigration made up the majority of Trump's platform while he ran for president.
Now that his new Muslim ban has been squashed again, he has got to prove that the Republican party is effective under his leadership.
Remember that quite a few Republicans disapproved of Trump before and after he became the GOP nominee. Some even voted against him in the election.
Fifty four percent of Republicans wished they had chosen a different candidate after he won.
Republican and former Ohio Court of Appeals Judge, Mark P. Painter, called for his impeachment this February.
If he wants a chance at an eight-year presidency, he's got to do a LOT more warming up to his party.
And he's already started by proposing a much cheaper budget for the border wall than many expected: $4.1 billion, as opposed to the $15 billion that Senate leader Mitch McConnell estimated before, according to CNBC.
Basically: Expect Trump to go after this wall hard body.
Oh, and tax payers (read: you and I) are going to pick up the tab. Not Mexico.
He just put the bill in our name, because, well...
He wouldn't be Donald Trump if his original promise worked out now, would he?