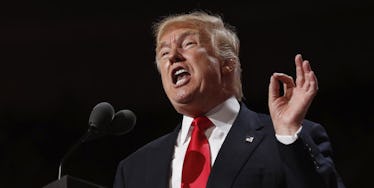 Republicans Are Mad At Trump For What He Said About This Muslim American Couple
REUTERS
At a time when Republicans and Democrats have difficulty agreeing on essentially anything, there is bipartisan condemnation of Donald Trump's response to a stirring speech delivered at the Democratic National Convention in Philadelphia last week.
The speech came from Khizr Khan, the father of Captain Humayun Khan, a Muslim American soldier who died in Iraq in 2004.
Khan strongly condemned Donald Trump's rhetoric surrounding Islam, and particularly his proposal to ban all Muslims from the United States.
If Trump had his way, Khan argued, his son never would've been in the US.
Trump, who has consistently exhibited an inability to take any form of criticism, responded to Khan's speech by questioning why Ghazala Khan, his wife, said nothing as she stood next to her husband. Suggesting he'd been unfairly attacked, Trump said,
If you look at his wife, she was standing there. She had nothing to say. She probably, maybe she wasn't allowed to have anything to say. You tell me.
The real estate mogul essentially implied she wasn't allowed to speak because she's Muslim, which proves he didn't get the point of the speech in the first place.
Ghazala Khan responded to Trump's insulting remarks in an emotional and deeply critical op-ed. She stated,
Donald Trump said I had nothing to say. I do. My son Humayun Khan, an Army captain, died 12 years ago in Iraq. He loved America, where we moved when he was 2 years old. He had volunteered to help his country, signing up for the ROTC at the University of Virginia. This was before the attack of Sept. 11, 2001. He didn't have to do this, but he wanted to... I cannot walk into a room with pictures of Humayun. For all these years, I haven't been able to clean the closet where his things are — I had to ask my daughter-in-law to do it. Walking onto the convention stage, with a huge picture of my son behind me, I could hardly control myself. What mother could? Donald Trump has children whom he loves. Does he really need to wonder why I did not speak? Donald Trump said that maybe I wasn't allowed to say anything. That is not true. My husband asked me if I wanted to speak, but I told him I could not. My religion teaches me that all human beings are equal in God's eyes. Husband and wife are part of each other; you should love and respect each other so you can take care of the family.
In other words, Trump has no idea what he's talking about, and his response to Khan's speech was Islamophobic and a disgusting insult to the parents of a dead American soldier.
Both Democrats and Republicans have since denounced Trump's remarks.
On Sunday, Democratic presidential nominee Hillary Clinton said,
Mr. Khan paid the ultimate sacrifice in his family, didn't he? And what has he heard from Donald Trump? Nothing but insults and degrading comments about Muslims — a total misunderstanding of what made our country great, religious freedom, religious liberty. It's enshrined in our Constitution, as Mr. Khan knows, because he's actually read it.
Similarly, Senator John McCain, war hero and former Republican presidential nominee, stated,
In recent days, Donald Trump disparaged a fallen soldier's parents. He has suggested that the likes of their son should not be allowed in the United States — to say nothing of entering its service. I cannot emphasize enough how deeply I disagree with Mr. Trump's statement. I hope Americans understand that the remarks do not represent the views of our Republican Party, its officers or candidates... It is time for Donald Trump to set the example for our country and the future of the Republican Party. While our Party has bestowed upon him the nomination, it is not accompanied by unfettered license to defame those who are the best among us.
It's refreshing to hear this from McCain, who's own military service was besmirched by Trump last year. Referencing the years McCain spent as a POW in Vietnam, the New York billionaire said, "I like people who weren't captured."
In spite of all this, McCain endorsed Trump, and it doesn't look like this will change, even with his condemnation of Trump's insulting response to the Khans.
Trump's behavior, rhetoric and policy proposals clearly stand against not only the founding ideals of the US, but the philosophies of both major political parties in the US.
For now, however, it seems many GOP leaders are choosing party over principles, as they continue to endorse Trump, even as they publicly condemn him.
This is a strange, and unprecedented election.