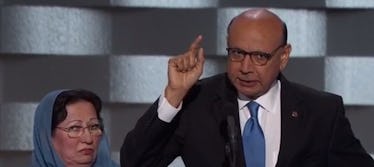 Father Of Fallen Muslim American Soldier Just Dropped The Mic On Trump At The DNC
Twitter
Khizr Khan, the father of a fallen Muslim American soldier, Capt. Humayun Khan, just delivered one of the most powerful speeches yet at the Democratic National Convention in Philadelphia.
His words were a profound rebuke of Donald Trump, his bigoted rhetoric and his call to ban Muslims from entering the United States.
Khan stated,
Donald Trump, you're asking Americans to trust you with their future. Let me ask you, have you even read the US Constitution?
The crowd exploded, and then Khan whipped out his own copy of the Constitution and offered to lend it to Trump.
As Khan highlighted, if you visit Arlington National Cemetery, you will see American service members of all faiths, ethnicities and genders have been laid to rest there.
His words stand as a strong reminder that there are over 5,000 Muslims serving in the US military, and they are just as American as their fellow soldiers.
This was an incredible and emotionally-charged speech that, in many ways, defined what America truly is meant to be about: inclusivity.
He urged all Americans to participate in this election and to vote for Hillary Clinton.
Khan said,
Hillary Clinton was right when she called my son the best of America. If it was up to Donald Trump, he never would've been in America.
Khan's powerful remarks generated a massive response on Twitter.
So, take some notes, Donald Trump. America is already great because of people like Khizr Khan and his courageous son.