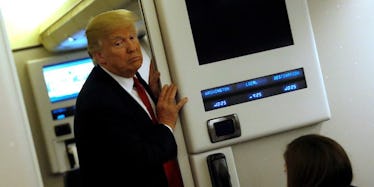 Trump Is Officially Asking Us To Pay For The Wall Now, And It's Not Cheap
REUTERS
One of the most consistent promises President Donald Trump made throughout his campaign was ensuring Mexico would pay for the wall he plans to build along the US-Mexico border.
That's not happening.
This was already pretty obvious, given Mexican President Enrique Peña Nieto repeatedly reiterated his country would not be coughing up for what is arguably an absurd and unnecessary project that will do nothing to substantially alleviate the problems with America's broken immigration system.
But, now, based on a budget proposals revealed on March 15, guess who's paying for the wall: the American people.
It's easy to promise things until you have to pay for them.
The budget proposal includes $4.1 billion for the wall, including $1.5 for the current fiscal year and another $2.6 billion for the 2018 budget year, which starts on October 1, The Huffington Post reports.
Yes, American taxpayers are being asked to pay for the wall, despite months of big talk and bold promises from President Trump.
Meanwhile, Trump is looking to cut dozens of agencies and programs.
As Theresa Cardinal Brown, the director of immigration policy at the Bipartisan Policy Center and a former senior official at the Department of Homeland Security, told The New York Times, "It's easy to promise things until you have to pay for them."
It's estimated completing the wall could cost as much as $21 billion.
Trump is seemingly unaware building a wall will not stop people from coming into the country, given humans have had the ability to dig and climb for thousands of years.
The wall is not a solution to America's immigration problems.
Trump used the wall as a rallying cry during his campaign, frequently demonizing undocumented immigrants in the process.
He's consistently painted undocumented immigrants as violent criminals, despite the fact research shows native-born Americans are more likely to commit violent crimes than immigrants.
But, Trump seems determined to ignore the facts when it comes to immigration. In the process, he could end up charging American taxpayers billions for projects they won't benefit from whatsoever.
Citations: Trump Budget Makes It Official: You're Paying For The Wall, Not Mexico (The Huffington Post)