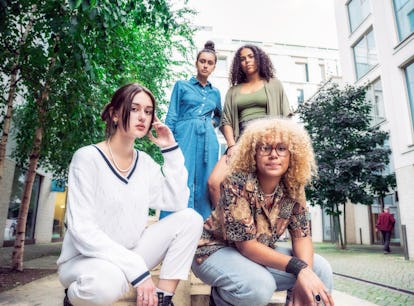 May 2023's Lunar Eclipse Will Affect 4 Zodiac Signs Most
golero/E+/Getty Images
Don't get too comfortable, fam. Though Taurus season tends to be pretty chill, there's a lunar eclipse on the horizon that's bound to bring up some unresolved emotions. While everyone will experience this to some degree, the zodiac signs most affected by the May 2023 lunar eclipse (aka the Flower Moon) will be called to purge any pent-up feelings that are doing more harm than good.
A lunar eclipse takes place when the Earth passes between the sun and the moon, preventing the sun's rays from filling the moon with light. Lunar eclipses only happen about two to three times every year, so they tend to coincide with some pretty major emotional revelations. Since lunar eclipses resemble full moons, expect this to be a time for previously hidden themes to be brought to light in some sort of drastic way — almost like an aha moment.
Since this eclipse is taking place along the South Node, there will be a calling to release something buried in your past that's been holding you back from establishing ultimate comfort and pleasure.
May's eclipse is not only a rare astrological event, but it's also considered to be a Flower Moon, the nickname that refers to full moons that take place in May. The term comes from the fact that flowers tend to bloom at a rapid speed during this month.
So, while you're out picking your bouquet, feel free to look up toward the heavens in order to catch a glimpse of the lunar eclipse. This year, the lunation will go exact on May 5, 2023 at 1:34 p.m. EST in Scorpio.
Here's how fixed signs can expect to be impacted by this month's full Flower Moon lunar eclipse:
Taurus Zodiac Signs (April 20-May 20)
This month is going to be an intense one for your relationships, Taurus. While all eyes are definitely going to remain on you this season, your romantic partnerships will be highlighted as the May eclipse unfolds in your seventh house. Now is the time to release any fears or drawbacks that have been preventing you from experiencing true intimacy, even if it means letting go of a person. If there's someone in your life you feel like you can't trust, now is the time to cut the cord. Don't be afraid to lose people that only made you feel anxious and uncertain. There's much better for you out there.
Leo Zodiac Signs (July 23-Aug. 22)
On May 5, the Scorpio eclipse is shedding light on your home and private world, asking that you let go of any fears, worries, or concerns about your residence, living situation, or relatives. This could be a time for you to finally bury the hatchet with a family member, or decide to move away from a place you've been hesitant to leave behind. Either way, it's a time to expunge any residual feelings rooted in anxiety about the nature of your home environment. Security here is important, but if it's keeping you stagnant, it's doing more harm than good.
Scorpio Zodiac Signs (Oct. 23-Nov. 21)
This eclipse has your name all over it, Scorpio, and it's bringing the parts of yourself that you're no longer in alignment with to the surface. While this process won't be comfortable, it'll allow you to finally face yourself in a true, authentic way. No more hiding. You tend to deeply identify with the struggles and challenges of your past, and this eclipse is asking that you let them go, in order to evolve into your best self. This doesn't mean you have to forget the past, but instead, try not to let it define you anymore. You deserve to feel at peace, and in order to do that, the fears and worries that you've been harboring have to go.
Aquarius Zodiac Signs (Jan. 20-Feb. 18)
On May 5, you're being called to let any pent-up emotions or feelings in your career and professional life go, Aquarius. While you seek to maintain plenty of control in this part of your life, there's something here that's been preventing you from evolving. Whether it's a fear of change, success, or failure, your work life is shifting now, and it's important that you allow chapters to close. Don't worry too much about what will come to take its place. Just allow yourself to walk away from what you know is no longer serving you in your vocation, and you'll immediately open yourself up to new possibilities.