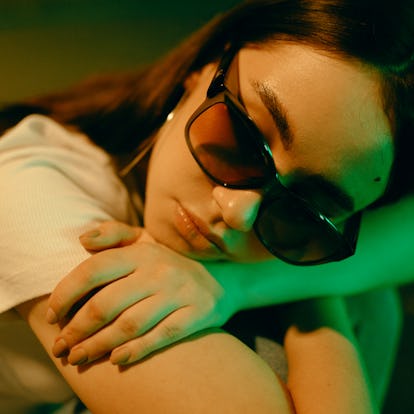 The April 2023 Hybrid Solar Eclipse Will Affect 4 Zodiac Signs The Most
Masha Raymers/Moment/Getty Images
'Tis the season to chase after whatever fills you with adrenaline, lights your fire, and ignites you with an undeniable sense of purpose (even if it fizzles out just as quickly as it began). It's full steam ahead on Aries SZN, which means that it's the perfect time for taking risks. Since Aries is the cardinal fire sign of the zodiac, this energy isn't exactly sustainable, but it's got just enough kick to thrust you into new projects and endeavors, especially if you've been dragging your feet. In fact, the upcoming solar eclipse is the most advantageous time to get the ball rolling, especially since it's the second new moon in Aries this year. Although everyone will be called to act fast during the April 2023 hybrid solar eclipse, four zodiac signs should expect to feel a sense of urgency during this eclipse more than others.
What Is A Solar Eclipse?
A solar eclipse takes place about two to five times each year. When this happens, the sun and moon are together in the same sign, similar to a new moon. The biggest difference (and what makes them even more powerful) is that the moon passes between the sun and Earth during a solar eclipse, casting a shadow over the sun. This year, the April solar eclipse is considered to be a hybrid eclipse, since the moon's shadow will be shifting, covering the sun entirely and partially as it unfolds.
When Will The 2023 Hybrid Solar Eclipse Take Place?
On April 20 at 1:34 a.m. UTC (Universal Time Coordinated, since it won't be visible in the U.S.), the sun and moon will conjoin in Aries, bringing high-powered beginnings to the birth charts of every zodiac sign. Since this will be the first eclipse along the Aries-Libra axis, it's marking the beginning of a significant story that will continue to unfold as the North Node and South Node travel through this sign over the next 18 months.
Here's how cardinal signs will be affected by the April hybrid solar eclipse:
Aries (March 20 - April 20)
On April 20, the sun and moon will conjoin in Aries, bringing significant new beginnings to the forefront regarding identity and self-expression. You've always been unapologetically you, Aries, but this eclipse is bringing you back to center in a way that's fully aligned with your purpose. You feel your best when you're not only taking initiative, but making choices that align with who you are to your core — and on this day, these decisions will be crystal clear.
Cancer (June 20 - July 21)
As the solar eclipse unfolds in your 10th house on April 20, you'll be embarking on a new journey in your career and public image that focuses solely on your leadership abilities. You've always been capable of taking the lead at work, Cancer, but this eclipse is finally granting you with the opportunity to steer your professional life towards your ultimate goal. It's a good time to step into a role that requires more responsibility, because you're now feeling fully equipped to step up to the challenge.
Libra (Sept. 21 - Oct. 22)
On April 20, the solar eclipse in Aries will bring powerful new beginnings to your romantic relationships and partnerships. As the sister sign of Aries, you tend to approach life in a way that's non-confrontational, but on this day, you'll be feeling fearless when it comes to making new connections. The relationships you cultivate now are significant, Libra, and are a part of a larger story that will continue to unfold over the next few years, so be sure to keep an eye on any bonds that are formed during this eclipse.
Capricorn (Dec. 21 - Jan. 19)
This month, the solar eclipse in Aries will ignite a new chapter in your home and family life, prompting you to hit the ground running behind closed doors. You tend to take on a leadership role in your domestic world, and this eclipse is an opportunity to fully take the reins. As the planner of the zodiac, you may not be too fond of the impulsive energy that comes with this eclipse, but it promises to get things moving in a beneficial way. It's time to re-center what home looks like to you, Capricorn, regardless of who agrees.