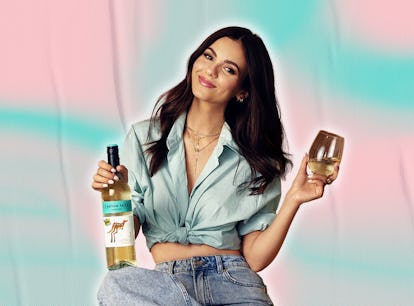 Victoria Justice Has The Perfect (Wine) Pairings For Your Summer Hangs
Plus, she shares the last text in the Zoey 101 group chat, and it's so heartwarming.
Elite Daily; Courtesy of Yellowtail
We may receive a portion of sales if you purchase a product through a link in this article.
You know summer is in full swing when you've got beach days and pool hangs on your calendar. While many people are looking forward to jet-setting to wanderlust locations the next few months, Victoria Justice's plans for vacation SZN are a lot closer to home. The actor tells Elite Daily what she's looking forward to most this summer is just "hanging out with friends" and chilling in a hammock. And for any girls night in, she says you need two things: an Insta-worthy charcuterie board and a glass of wine.
The 30-year-old multi-hyphenate, who is teaming up with Yellow Tail for the launch of the brand's new moscato, calls it the "perfect summer drink," thanks to its hints of pear and cantaloupe. It's a must for Justice's relaxing nights at home — she'll enjoy a glass while listening to her song of the summer, Doja Cat's "Attention," or marathoning Love Is Blind on Netflix — and the Victorious alum is planning to pour one out while watching her former castmates in the Zoey 102 movie when it comes out on July 27. (Justice, who played Lola on Nickelodeon's Zoey 101 from 2005 to 2008, wasn't able to participate in the upcoming reboot due to her busy schedule but tells Elite Daily that the show still holds a special place in her heart. "I'm just really rooting for all of them, and I'm so excited for the movie," she says.)
Below, Justice shares more wine pairings for different summer activities you may be planning, her secret ingredient for the perfect hang, and her idea of the ultimate "treat yourself" day.
This interview has been condensed and edited for clarity.
Elite Daily: What attracted you to this collab with Yellow Tail?
Victoria Justice: I've been a Yellow Tail fan for a very long time now. Their wine is affordable, the quality is amazing, and their new moscato is incredible. I'm a girl who loves sweet wine, and there's this amazing fruit flavor in every sip with hints of melon and passionfruit. It's the perfect drink for a fun night out, a chill girls night in, or hanging out in my backyard with a charcuterie board.
ED: You recently starred in Netflix's A Perfect Pairing, so which wine would you say is the perfect pair for a birthday party?
VJ: If it's a summer backyard party or a summer barbecue, definitely Yellow Tail Moscato.
ED: For a bachelorette party?
VJ: Maybe a rosé. That would be fun.
ED: For a dinner party with your friends?
VJ: Can I say Yellow Tail Moscato again? Because that is really what I would be drinking.
ED: For a beach party?
VJ: Yellow Tail has this other drink, Yellow Tail Fresh Twist. There are three flavors. Any of those would be perfect, but the Peach & Mango would probably be my first pick.
ED: What are some summer plans you're most excited about?
VJ: I have a single that I'm going to be releasing that is very sort of heartfelt, vulnerable, and has singer-songwriter vibes that I'm excited about. I'm also looking forward to hanging out with my friends, driving to the beach, reading, having some pool parties, and taking time to lay on a hammock and listen to good music and chill.
ED: That sounds nice. When you're hosting your friends, what's your secret ingredient for a great party?
VJ: First of all, my go-to is a charcuterie board. I'll put pecorino Romano on an assortment of different fruits, like strawberries and blackberries, with fresh honey, crackers, fig spread, salami, and then of course, Yellow Tail Moscato. And then, my friends and I love playing games like Monopoly Deal, which is my favorite card game, or Heads Up. We'll also watch a movie or listen to good music.
ED: You recently showed your support for Zoey 102 at a party in Los Angeles. Have you kept in touch with your castmates since the show wrapped in 2008?
VJ: I have on and off over the years. It's hard because everyone's grown now, and people have kids and live in different states and whatnot. Everyone gets busy. It was so nice to be able to reconnect with Jamie Lynn Spears at the party the other day, and to see Erin Sanders. I love both of them so much. We do have an active group chat, and that's been really fun to keep in touch with everyone.
ED: What was the last thing you all talked about in your group chat?
VJ: We're always just sending each other love and random videos. The last thing was Chris Massey sending a message saying that he was watching all of us in Zoey 101 with his daughter on Netflix. We were all like, "Oh, that's so cute."
ED: Where do you think your character Lola from Zoey 101 would be now in 2023?
VJ: She would be living in L.A., on a soap opera, and she would have two King Charles Cavaliers. I'm getting very specific about this. She would be acting, and then also doing social media influencing. She would still be friends with everyone. That's what I see for her.
ED: Would you ever be interested in a reunion for your other Nickelodeon show, Victorious?
VJ: Never say never. There's not anything in the works right now, but I loved making that show, and it has a very special place in my heart. I would be open to it. Right now, we're all kind of on our own individual paths and doing our own things, but if at some point it makes sense, you never know.
ED: What's one project that you've done that you would want to revisit, whether that's a reboot or a sequel?
VJ: Probably The Boy Who Cried Werewolf on Nickelodeon... No, I'm joking. I mean, maybe Victorious. I also loved doing The Rocky Horror Picture Show. That was really fun. I'd love to do another musical movie.
ED: You just wrapped your new movie Sic in Thailand. What were some of your favorite things that you did while you were there?
VJ: I ate a lot of really good Thai food. I had so much amazing mango sticky rice. And the nightlife in Bangkok is really fun. There's lots of cool, hidden speakeasies — super hole-in-the-wall places. We went to a lot of really fun rooftop bars, and this jellyfish bar that was incredible.
I loved working with that whole cast so much — Devon Ross, Taylor John Smith, and Dermot Mulroney. We all got along so well, and when we weren't working, we would all just hang out and eat together. We would go out and dance the night away. We even went for a river cruise in the Bangkok River. That was one of my favorite days.
ED: Along with the new film, you also mentioned releasing new music. Thinking back to one of your last singles, "Treat Myself," what are some ways you like to treat yourself?
VJ: The ultimate self-care day would start off by getting my full eight hours of sleep, because if I don't get enough sleep, it's going to be rough the next day. And then, I love working out, so I would probably take a workout class with my sister. We do hot yoga together a lot, and I always feel great after doing those classes. My skin is always glowing and my muscles feel loose. Then, I'd probably go for sushi, which is my favorite food. I would get a meditation in, maybe go for a hike, do some reading, and then, I would have a fun chill girls night and have everyone over to watch The Bachelorette or a really good movie.