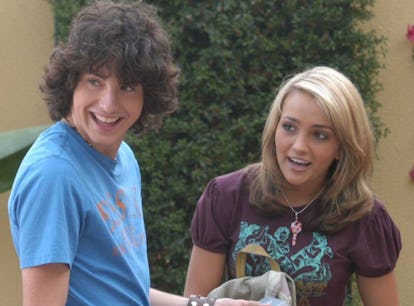 A Zoey 101 Movie Is Happening, But 2 Of The Show's Stars Won't Be In It
There's been some drama with this cast...
Nickelodeon
Grab your pear phone and hop on your Jet X scooter, because it's almost time to return to Pacific Coast Academy after a decade-and-a-half away. The Zoey 101 cast had been teasing a potential follow-up to their beloved 2005 Nickelodeon series for quite some time, and now it's official. Zoey 102, a new movie continuing the story of Zoey Brooks, Chase Matthews, and the rest of their PCA friends, will be released on Paramount+. The only question remaining is: ... Are you ready?
The new movie was first announced on Jan. 12, via Deadline. The film will see the teen stars all grown up as the reunite at Pacific Coast Academy for a wedding 15 years after they graduated. It has yet to be revealed exactly who will be getting married, but of course, fans are holding out hope the movie will finally provide a satisfying conclusion to Zoey and Chase's will-they, won't-they love story.
The movie announcement didn't come as the biggest surprise to superfans who've been following the Zoey 101 cast in recent years. The show's stars have frequently reunited in the 2020s, and have even thrown out some ideas for a revival series. In 2020, Jamie Lynn Spears re-recorded the show's theme song, "Follow Me," and included many of her co-stars in the music video, further spurring reboot rumors.
However, not all of the original Zoey 101 cast is making the trip back to PCA. Here's what you can expect from Zoey 102.
Zoey 102 Cast
Most of the Zoey 101 main cast will return for the movie, including Spears, Sean Flynn, Matthew Underwood, Christopher Massey, Abby Wilde, and Jack Salvatore.
However, two names were noticeably missing from the cast list when the movie was announced: Victoria Justice, who played Lola Martinez, and Alexa Nikolas, who played Nicole Bristow. Neither Justice nor Nikolas had been part of the previous cast reunions when reboot talks were swirling. In 2021, Justice told Entertainment Tonight that although nobody reached out to her about a potential Zoey 101 reboot, she still loved the show and its cast.
Nikolas' lack of involvement is more obvious. The actor recently reiterated her long-standing feud with Spears following the release of Spears' memoir Things I Should Have Said in January 2022. Nikolas accused Spears of lying throughout the book. She's also been outspoken about her alleged mistreatment at Nickelodeon, and joined protesters outside the studio following the release of Jeannette McCurdy's memoir I'm Glad My Mom Died in August 2022.
After Zoey 102 was announced, Nikolas shared her disappointment about the project in a Twitter thread on Jan. 12.
Zoey 102 Predicted Release Date
The sequel movie was already in development when it was announced, with a premiere date slated for later in 2023. Look for Zoey 102 to stream on Paramount+ before the year ends.