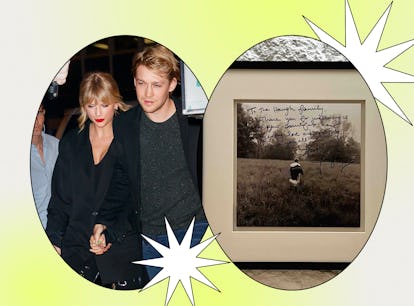 The "Sweet Nothing" Airbnb Is Going Viral Among Taylor Swift Fans
Cue the nostalgia for her Joe Alwyn era.
Jackson Lee/GC Images/Getty Images/Airbnb/Elite Daily
It's no secret that Taylor Swift likes to travel. Not only is she currently traveling the country on her Eras Tour, but she also has a Holiday House in Rhode Island and has been spotted a few times walking around NYC recently — except on Cornelia Street. While dating Joe Alwyn, she also made frequent trips to be with her London boy abroad. The two would even go on romantic getaways, and there's an Airbnb going viral after Swifties discovered it has a connection to her song "Sweet Nothing" — a song from Midnights that talks about a trip they took last summer.
Swiftie @midnightsmanda tweeted on June 1, "Wait I'm looking at Airbnbs in Ireland and found one Taylor stayed at??" According to the listing, Swift rented the coach house while visiting Dublin. One of the photos of the Airbnb is a signed picture of Swift from her folklore era that says, in her handwriting, "Thank you for welcoming us into your beautiful home. Sending love and gratitude to you all." The caption on the photo also mentioned, "The location of her stay was kept confidential and nobody ever found out, allowing her some peace and quiet while in Dublin." It also revealed that "Sweet Nothing" "references her stay" in the Airbnb, which is a song Swift wrote with Alwyn and many Swifties believe was about their relationship.
The credits on the "Sweet Nothing" include William Bowery, which was revealed in Folklore: The Long Pond Studio Sessions is Alwyn's pseudonym that he used when co-writing songs with his then-girlfriend. It's likely the two wrote the song about their trip to Dublin, while Alwyn was filming Conversations with Friends in Ireland. Last July, the actor was spotted in Wicklow, Ireland for the TV series. "Sweet Nothing" starts off with Swift singing about a pebble that her and her lover "picked up last July" and asks, "Does it ever miss Wicklow sometimes?"
While this Airbnb is listed in Dublin, that's only about an hour and a half away from Wicklow, and the perfect place to stay while shooting or during a weekend getaway. If Swift really rented this Airbnb last summer, it's possible it actually has a "Sweet Nothing" connection. And the best part of all is that it's super affordable.
Inside The Taylor Swift "Sweet Nothing" Airbnb
The peaceful two-bedroom home, which is just a walk from Ranelagh in Dublin, is only $287 a night. The home definitely has a folklore cottagecore vibe to it, and was "elegantly restored after lying dormant for decades." It comfortably sleeps up to four people with three beds, which means if Swift and Alwyn rented it together they would have plenty of space to relax and write songs. From the "Sweet Nothing" lyrics, it seems Alwyn was "in the kitchen humming" at some point during the stay.
The home does have a kitchen and large dining room as well as a private terrace for romantic al fresco dinners. There's also a photo of a black dog with the caption, "Meet Billy. Billy lives with us and may pay you a visit during your stay. If you are not a fan just close the gate!" The Airbnb does allow pets, so Swift may have brought along her three cats — Meredith, Olivia, and Benjamin. Even if they were there, it's nice to think that Swift left the gate open for visits from Billy the dog as well.
In the listing's "other things to note" section, it warns that the entrance to the coach house is "along a gravel path," so this is possibly where the two picked up the pebble mentioned in "Sweet Nothing." It's a little somber thinking about their cozy time together considering the end really was coming for their relationship, but this is still a place many Swifties will want to visit. If you have wanderlust plans for Ireland this summer or in the future, booking this Airbnb for its nostalgic "Sweet Nothing" connection is a must on any fan's bucket list.