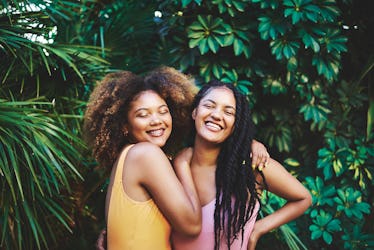 60 Sister Captions For Instagram & Sharing Your Sisterhood Pics
Borrow these captions like you and your sister borrow each other's clothes.
Delmaine Donson/E+/Getty Images
The first thing you want to do after snapping the cutest pic with your sister is post it on the 'Gram for everyone to see. She's your best friend, life coach, personal stylist, and private investigator all in one, and she knows you inside out and backwards. One thing's for sure — you two can pull off the ultimate sister slay. Whether you guys have quirky Tia and Tamera vibes, are rockstars like Aly and AJ, or are angel and devil opposites like Bella and Gigi, you're definitely an iconic pair. The only problem is you're in dire need of some cute sister captions for Instagram that measure up to your legendary teammate, and your brainstorming might get derailed when she notices you've been wearing her jeans all day.
Let's face it, there are so many wonderful things you'd like to say to express how much your sis is the peanut butter to your jelly. If it were up to you, you'd end up writing a whole novel, but you know your friends don't have time to read all of that while scrolling through their feed. This is when something sweet and to the point, like these cute sister quotes for Instagram, will come in clutch. Your sister has always been your BFF, although she's so much more than the textbook definition of a best friend. You've been side-by-side since you were kids and have gone on so many great adventures and family vacays together. You have what feels like a million inside jokes, and whenever the nostalgia hits, she's the first person you text. While you may not live under the same roof anymore, you still talk all the time in your family group chat.
Whenever you do reunite next, you know the first thing on the agenda will be to snap a special sister selfie together to post with some sister captions for Instagram. Use a quote that's LOL-worthy like a sister pun for a goofy throwback pic of you wearing matching OOTDs as kids, or something sweet for a cherished memory. All you need to do is scroll through these 50 sisterhood Instagram captions to find the one that perfectly matches your snap and truly describes your sisterly bond.
Cute Sister Captions For Your Ultimate BFF
"I was born with a sister by my side, so I've been winning at life since Day 1."
"She's the Mary-Kate to my Ashley."
"Our roots say we're sisters, but our hearts say we're friends."
"Sisters? Nah, we're besties."
"Sisters like you are diamonds. They sparkle and are a girl's best friend."
"You're my Nemo. If you get lost in the great, big ocean, I'll just keep swimming to find you."
"BTBFF: Born together, best friends forever."
"In the cookies of life, sisters are the chocolate chips."
"Sister sister."
"Can you tell who's the Bella and who's the Gigi?"
"She's not just my sister, she's my sis-star!"
"Fairies are real...they are called sisters."
"Sisters who stay together, slay together."
"One soul, two bodies."
" Life was meant for adventures with your sis."
Funny Sister Quotes & Puns That Are So Real
"Yes, you're my sister. Yes, you're my best friend. And yes, I'm still going to take some of your fries."
"Having a stylish sister means I can be stylish too… when I borrow her clothes."
"Happiness is having a sister you can text at any time of the day, and she'll respond right away."
"We don't need words, because we have perfected our own secret language."
"Sometimes, miracles come in pairs."
"She's not just my sister, she's my sis-star!"
"Yoda best sister!"
"This is going to sound really cheesy, but my sister is gouda and grate. You cheddar believe it."
"FYI, she got half her clothes from my closet."
"Jeans are almost as good as these genes."
"My twins big like Tia, Tamera" – Doja Cat, "Tia Tamera"
"I'm smiling because we're sisters. I'm laughing because there's nothing you can do about it."
"I can't remember if I'm the good sister or the evil one... "
"When I say I won't tell anyone, my sister doesn't count."
"The only person who is allowed to get on my nerves and get away with it."
Sweet Sister Quotes For Your Built-In Best Friend
"Sisterhood is a very powerful thing."
"A loyal sister is worth a thousand friends."
"How do some people make it through life without a sister?"
"I could never love anyone as I love my sisters." — Little Women
"A sister can be seen as someone who is both ourselves and very much not ourselves—a special kind of double." —Toni Morrison
"Out of anyone who could have been my sister, I'm so glad it was you."
"Sisters are supposed to fight and make up, because they are sisters. And sisters always find their way back to each other." — Jenny Han, To All The Boys I've Loved Before
"Sisters by blood, best friends by choice."
"We just have a way of knowing everything's gonna be okay." – Aly & AJ, "On The Ride"
"And I'll love you 1000 times more tomorrow."
"You're the greatest gift our parents ever gave me."
"Sisters function as safety nets in a chaotic world simply by being there for each other." — Carol Saline
"Because of my sister, I smile more and worry less."
"The only thing better than having you as my sis is one day my children having you as their aunt."
"Miles apart but always connected by the heart."
Sisterhood Instagram Captions That Are Nostalgic
"Making memories with you has always been my favorite thing to do."
"Sisters share childhood memories and grown-up dreams."
"A good friend knows all of your best stories, but a sister was there to witness them."
"Thank you for always having an embarrassing childhood story whenever I need a good laugh."
"Oh girls just wanna have fun." – Cyndi Lauper, "Girls Just Want To Have Fun"
"Little bit of childhood that can never be lost."
"When mom and dad don't understand, a sister always will."
"Lesson learned from Parent Trap? Better together."
"Causing trouble since day 1."
"My dear sister, I loved you yesterday, I love you today, and I'll love you tomorrow."
"We may forget the years, but we'll remember the moments."
"We got it from our mama."
"Sisters are like angels. They sparkle, twinkle, and glow. They are the greatest gift our hearts will ever know."
"You will always be the sister of my soul and the friend of my heart."
"I was born with a sister by my side, so I've been winning at life since day one."
Get The Elite Daily Newsletter
You deserve emails that are actually fun — full of juicy celeb intel, astrology, helpful dating advice, and much more. Luckily, our newsletter will bring you all of that, well, daily.
This article was originally published on