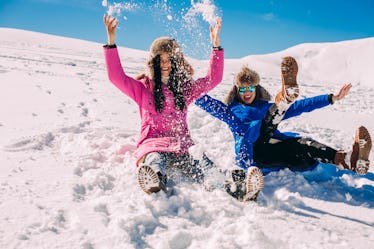 18 Saturday Sister Plans That'll Beat The Winter Blues
Don't let the cold stop you from hanging with your number one since day one.
When it's too cold outside, there's always zero urge to get out from underneath your warm blanket and get off the couch to do anything. If you have a sister who has been your number one since day one, you know she's just about the only person who could make you roll out of your cozy bed. Your sis may be your go-to partner for any adventure. She makes every situation so much more fun, even if it's a simple plan of watching your fave movies at home on a Friday night. However, you may be looking for unique things to do with your sister in the winter to change it up.
The snowfall and chilly weather is only here for a little bit longer, so it's a great time to seize the season with as many winter activities as possible. That means snow tubing, cozy bonfires, and taking some prime sister Instas together in a winter wonderland. With some creative planning, you can put a sisterly spin to it all and make it special.
If you're experiencing a major brain freeze, this list of 18 winter activities that you can do with your sis should have you covered. Fill up the rest of your weekends with snow much fun that will guarantee to last you until it all melts away.
This article was originally published on