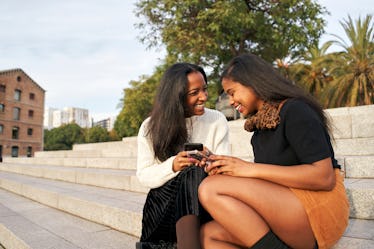 7 Staycation Ideas For Spring Break With Your Sis If You're Both Home
Who said you needed a plane ticket to have a fun spring break?
Shutterstock
While spring break might be the ultimate tease before summer, it gives you a taste of the sunshine and all of the good memories the warmer months create. The final countdown until summer break has officially begun. If you're like most high school or college students, and you're flat-out broke, you just might not have the funds to jetset somewhere warm and tropical this year for spring break. And in that case, you'll need some fun staycation ideas for spring break with your number one bestie—your sister.
Don't get me wrong; a good staycation can be good for the soul. But when everyone else and their mother is off living it up in like, Punta Cana, you gotta find some way to deal. Luckily, you have your sister, and while she doesn't have the funds for you and her to head to a tropical beach, she just might be the key to having a killer spring break staycation the both of you will enjoy. The two of you are guaranteed to think of some good staycation ideas for a few days off.
So, when it comes time to kick off spring break, close those mobile apps, gather your things, and get ready to make some quality memories. No one said a staycation couldn't be the break you needed this year, and these seven ideas for staycations will keep you too busy for the FOMO to ever kick in.
This article was originally published on