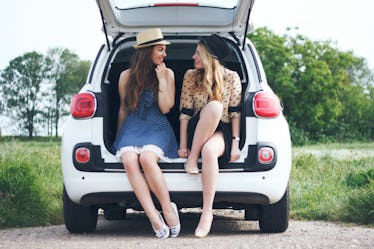 6 Romantic Spring Break Ideas With Your Girlfriend That Don't Involve Traveling
Spring is in the air, and the weather doesn't care whether or not you and your girlfriend have the funds to take a trip. It's still a time for celebrating. With these spring break ideas with your girlfriend, the two of you can have a romantic time together and celebrate the changing season from the comfort of your own home. You can also learn new skills that will keep you fed and well tended to throughout the rest of the year!
Spring is about regeneration and new growth after the hunker down of winter. While many people respond to the feeling of the season by bursting out of their shells and taking a trip, it's good to sink into the themes of growth from your home, too. Making spaces for seeds to grow, learning new culinary skills, and tending to your and your girlfriend's bodies are all amazing ways to celebrate the fertility and blossoming warmth of spring. Plus, activities that encourage your community of friends and neighbors to come together helps spread your love to your whole social circle. Take care of the planet, take care of yourselves, and catch some sunshine. Summer will be here before too long.
1. Learn Reflexology On One Another
I don't know what romance in your relationship looks like, but with me and my girlfriend, ours involves massaging one another's feet for hours on end. This massage system is used to release tension in different places in the body, based on the theory that reflex points on the hands and feet are linked to every other area of the body. With some coconut oil and an accompanying guidebook, you and your girlfriend can become experts on one another and share your skills with friends.
2. Have An Indoor Or Outdoor Picnic
Too chilly to head to the park? That's OK. You don't need to go outside to have a picnic when you can spread a blanket on your bedroom floor. With grapes to match the wine, a baguette, and a wheel of brie, the two of you can have a romantic picnic regardless of the weather outside. Don't forget the flowers!
3. Spa Day
It's super easy and fun to have a spa day at your house. You can make face masks out of greek yogurt, charcoal, turmeric, and witch hazel following this easy DIY recipe. Take turns painting one another's nails and exchanging massages while you wait for the face mask to do its thing. You'll emerge feeling refreshed and ready for the warmer weather to caress your skin.
4. Start A Fermentation Project
If you and your girlfriend are on a budget, you can learn how to make sauerkraut while basically spending no money at all. All you need to do is go to the store, get a couple of heads of cabbage, chop them up thinly, and massage the cabbage while salting it well to release the water. Follow this recipe from master fermentor Sandor Katz to find out how simple it really is! Eating a diverse diet of fermented foods is good for your gut, as it increases the body's biodiversity and helps you and your girlfriend stay healthy and fight off disease. Plus, it's delicious!
5. Plant Seedlings
Spring is the time to start tiny seedlings. Even if you're in a crowded city you can still start a small garden flourishing on any available window sill! Salad greens like radishes, scallions, cilantro, arugula, and parsley are all easy to grow indoors. Spread down some newspaper, acquire some potting soil, and you and your girlfriend can play at being fertility goddesses while you germinate plants to keep you fed through the warm months.
6. Clothing Swap
Want to go clothes shopping over your spring break but lacking the funds to finance a shopping spree? You and your girlfriend can organize a community clothing swap and free potluck to foster new friendships and reduce waste. Simply ask that people bring as many items as they want, and ask that they don't take more than they contribute to the clothing pile. Set up some mirrors so that people can model their new clothes and viola! You're building community, giving yourself some new threads to flaunt in the warmer weather, and all without putting any strain on the landfill. That's what I call getting in the spirit of spring!
Check out the entire Gen Why series and other videos on Facebook and the Bustle app across Apple TV, Roku, and Amazon Fire TV.
Check out the "Best of Elite Daily" stream in the Bustle App for more stories just like this!