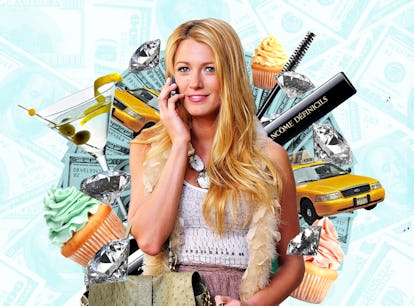 How Much It Costs To Be Serena Van Der Woodsen From Gossip Girl
Is S secretly more bougie than B?
We may receive a portion of sales if you purchase a product through a link in this article.
All it took was spotting Serena van der Woodsen at Grand Central to draw Gossip Girl fans into the drama of New York City's elite. While Upper East Siders like Blair Waldorf and Chuck Bass often took grand trips to Paris and limo rides to school, Serena was the OG queen of quiet luxury. Despite her relatable, laid-back style, Serena came from old money and knew how to spend it. In fact, you might be surprised at how expensive it'd be to live like Serena from Gossip Girl for one day.
Serena — who's inspired by German countess and IRL socialite Hadley Marie Nagel — is in high school, so most of her wealth comes from her multi-billionaire parents. Lily van der Woodsen owes her estimated $1 billion to 2 billion net worth to family money, as well as business deals, divorce settlements (including 20% of Bass Industries), and her mother's estate, which Dan Humphrey's dad Rufus said is enough to purchase half of Manhattan in Season 6. Serena's father, William van der Woodsen, is a doctor, so fans believe significant family wealth helped him afford a penthouse across from the Metropolitan Museum of Art.
Since Serena has access to her parents' lavish fortunes when she wants to go out for dinner or buy designer clothes — which also means she's wealthier than her bestie, Blair Waldorf — you can count on her spending a fortune regularly. Below, find a guesstimated typical day in the life of Serena van der Woodsen would cost you.
The Long-Term Expenses: Serena van der Woodsen Has It Made
After disappearing to a Connecticut boarding school for a year, Serena returns to Manhattan in the pilot episode of Gossip Girl. She enrolls in Constance Billard School for Girls again, which is just one of the long-term expenses that her mother is funding.
Constance Billard is based on Nightingale-Bamford, where the yearly tuition is $61,655 in 2023. If you divide that by the number of school days in Manhattan, that means a single day of school is about $356. Plus, there's the standard uniform cost, which is roughly $200 per outfit.
In the first season, Serena's family is also staying at the Lotte New York Palace (455 Madison Ave.) while their UES penthouse is being renovated. Their cushy accommodations are courtesy of the Bass family, but if you'd like to stay where Serena lived, you'll need to dish out $15,000 a night. The 5,000 square-foot Towers Penthouse Suite has three floors, two bedrooms, a library, a gym, a private rooftop terrace, and even an in-suite elevator.
Total: $15,556
Serena's Morning Routine Includes "Divine" Hair Care
6:15-6:45 a.m.: Serena has a low-maintenance vibe to her, but it does take some time to get ready in the morning. Assuming Serena's hair care routine would be the same as Blake Lively's (since, you know, they have the same hair) we can go off of Lively's favorite products. In 2013, Lively told Marie Claire that she uses the "divine" Kérastase Elixir Ultime Le Bain Shampoo ($40) and started using Goldwell Dualsenses Color Detangling Conditioner ($21) after her colorist, Rona O'Connor, introduced it to her.
On days when she wants her gorgeous locks to really stand out, Lively uses Wella's Invigo Brilliance Mask ($19), which the actor says "smells delicious." She then finishes off her hair routine with the Mason Pearson Bristle Handy Brush ($175), L'Oréal Paris Elnett Hairspray ($7), and the T3 Whirl Trio curling iron ($300) to create those beachy waves.
6:45-7 a.m.: Serena's makeup routine, according to Gossip Girl's head makeup artist, Amy Tagliamonti, consists of Make Up For Ever HD Invisible Cover Foundation ($100), Chanel Les 4 Ombres Multi-Effect Quadra Eyeshadow in Spices ($68), and Lancome L'Extreme Lengthening Mascara ($33). Tagliamonti also said Serena wears a bit of eyeliner and lip gloss, but her specific products have been discontinued since Gossip Girl ended. Instead, you can calculate Lively's current faves, which she told Marie Claire were Urban Decay's 24/7 Glide-On Waterproof Eyeliner Pencil ($25) and Yves Sanit Laurent's Lip Stain ($45).
7-7:25 a.m.: In the pilot episode of Gossip Girl, Serena can be seen eating yogurt for breakfast when meeting up with Blair on the steps of the Met. However, if she had the time for a full meal, she might order something from Veselka like an omelet and coffee for delivery ($25). The popular Ukrainian diner located downtown was mentioned a few times in the series, and is a can't-miss brunch spot for Gossip Girl fans.
7:25-7:55 a.m.: Since she's too bougie to take the bus, the next expense on Serena's list is her cab to school. Constance Billard's address on the show, 719 E 82nd St., is non-existent in real life, but if Serena were to take a taxi from the Palace to there, it would be about $23.
Total: $881
Serena's Afternoon At School Is Wallet-Friendly
8-11:20 a.m.: While Serena is at school and in class, her wallet rests a bit. However, when lunch rolls around, our luxe Upper East Sider will likely be treating herself to something outside of the dining hall. She could go back home to the Palace Hotel for a grilled fontina cheese sandwich at Pomme Palais, or go downtown to Barrio Chino for tacos.
The Mexican restaurant on the Lower East Side was where Serena got drunk on Thanksgiving before running into Dan for the first time, as seen in a flashback in Season 1, Episode 9. A cab from Constance Billard to there would be about $33.
11:20 a.m.-12 p.m.: Three tacos with a side of chips and salsa at Barrio Chino would set Serena back around $32. For dessert, she might stop by Erin McKenna's Bakery across the street. This is where Dan got his pumpkin pie that ended up on the ground after he had to save Serena from getting run over by a cab. A single cupcake for Serena to treat herself with would be $7, which she could enjoy on the way back to school. The cab back would be an additional $37.
3:45-5:30 p.m.: After school, Serena might spend some time walking around Central Park with bestie Blair or boyfriend Dan. A stroll through the park after school can save you some money, and once you reach the south end, snap some pics in front of the Plaza Hotel's Pulitzer Fountain — aka where S and B took photos together at the end of Season 1, Episode 4.
Total: $109
Serena's Night Out Begins With Drinks At The Bar
6-7 p.m.: When Serena got back to the Palace Hotel, she'd likely change into something more her vibe than her Constance Billard uniform. Some of Serena's most iconic looks from the series have been gold, like her Diane Von Furstenberg dress in Season 5, Episode 9, or the Pamela Dennis gown from Season 1, Episode 10. She really is golden, so a night out on the town would need a similar 'fit.
Inspired by her love of Ralph Lauren, Serena might wear this gold Geo-Motif Sequined Gown ($595) with some matching accessories. Remember layering statement necklaces was all the rage in 2007 when Gossip Girl first premiered? Designer Stephen Dweck said that Lively "always chose the boldest pieces to wear on the show." Lively's real-life BFF Taylor Swift wore Logan Hollowell's Pavé Diamond Trillion Toggle Choker ($7,995) to the Kansas City Chiefs game against the New York Jets, and it would actually pair well with this dress along with a Luxury Diamond Necklace ($12,895). To finish off the nighttime look, Serena would wear Dior heeled sandals ($1,850).
7-7:25 p.m.: Serena would also switch up her day makeup look for a nighttime one. Tagliamonti told Allure the makeup department would use Nars Duo Eye Shadow in Cordura ($25) for evening looks, because "black can sometimes read as too heavy" and the browns are great for a smoky eye "that's not too intense."
7:30-8 p.m.: Before going out to dinner or an event, Serena would likely grab a drink at the Palace Hotel's bar, The Gold Room, where a dry martini is $24.
8:40-10 p.m.: For dinner, Serena might enjoy a meal with Dan at STK Steakhouse. This Meatpacking location is where Dan takes Amanda out on a date in Season 2 after he and Serena break up, but she joins them for an interesting third-wheel situation. A cab to STK at night is around $33, and Serena's meal would cost about $145 if she's enjoying a ribeye filet ($85), two sides ($19 each), and the same martini she orders at the bar in the show ($22).
10:35 p.m.-midnight: Even if it's a school night, Serena's usually down to continue the party. After date night with Dan, she might grab more drinks at The Campbell, and take a cab to get there ($32). This bar within Grand Central Terminal is where Serena hooked up with Nate prior to the Gossip Girl pilot, and it's walking distance to the Lotte New York Palace, where she'd go at the end of the evening. A Belvedere martini, Serena's go-to, is just $22.
12:15-1 a.m.: Once home, Serena would follow her nighttime routine of washing her face with Environ Mild Cleansing Lotion ($50) and using La Mer's Crème de la Mer to moisturize ($380) — all products that Lively uses herself. Then, she'd change into a silky (and designer) nightgown ($495) before getting into bed.
Total: $24,541
Overall, Serena's Laid-Back, Luxe Lifestyle Is $$$
Serena may not be flaunting her bank account as much as her bestie Blair, but she's got a stealth wealth about her that's definitely taking advantage of her parents' billionaire status. In fact, adding up her long-term expenses with what she'd typically spend in one day, Serena's budget is around $41,087. That's four times Blair's budget, which may be shocking to GG fans.
However, a lot of that goes toward her designer wardrobe and statement jewelry that she's not buying every day. A good amount is also going into the penthouse suite at the New York Palace that Serena's family only stayed in while their actual UES home was being remodeled. Regardless, her daily budget is close to what some people make in an entire year.
Hopefully, Serena isn't spending an entire college tuition each week, but then again, she has the funds to do it. The Gossip Girl reboot even mentioned that Serena and Dan are still happily married with no financial woes. So, it seems Serena really is doing just fine.
Total: $41,087