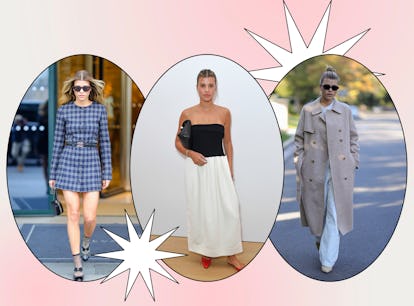 I Tried 3 Quiet Luxury Thrift Bundles From TikTok For $100 Each
It was a masterclass in Sofia Richie style.
We may receive a portion of sales if you purchase a product through a link in this article.
The change of season doesn't necessarily mean a change in trends. For the better part of 2023, "quiet luxury" has taken over the runway, the streets, and TikTok, and there aren't any signs of slowing down. Unfortunately for me, I've mostly been at a loss in how to replicate the sleek, clean-lined rules of the stealth wealth aesthetic while living on a not-so-wealthy budget. So I finally called in the experts — since the luxe lifestyle look is here to stay, I asked three ThriftTokers to make my fall wardrobe look like Sofia Richie's, sans her model paycheck.
The quiet luxury aesthetic — which oozes that effortless, timeless, old-money charm that lets the clothes, not the labels on them, speak for themselves — was brought into the limelight by Richie's lavish wedding in the south of France this past spring, complete with a trio of Chanel haute couture looks for the weekend festivities. As a student of the NYC fashion scene, I wish I could incorporate more Chanel into my rotation, but that's just not possible at the moment. Luckily, my FYP has been serving me much more cost-efficient solutions known as thrift bundles. Via my new fave corner of the app, ThriftTok creators can source gently used clothes on your behalf, using creative guidelines and Pinterest boards to bring your bundle to life.
Armed with a $100 budget, a Pinterest board, and a detailed list of my clothing sizes and measurements, I worked with ThriftTok's Elizabeth Chesak, owner of Out of Retirement Vintage; Emily Leffler, owner of Unbothered Curations; and Brittney Mojica, owner of Very Own Vintage, to curate my dream quiet luxury wardrobe for fall. Below, you'll see how the previously worn styles they chose look tailor-made for me, plus similar styles to their thrift bundle selects so you, too, can start your stealth wealth fashion journey.
Bundle No. 1 By Out Of Retirement Vintage
Chesak started her resale business, Out of Retirement Vintage, to provide a blend of quality designer and nondesigner pieces to her customers. She personally sources her collection both online and at local thrift boutiques in Dallas, Texas. When I saw the versatility of styles she was able to capture on her TikTok, I had a good feeling about her ability to nail this quiet luxury thrift bundle.
The ThriftToker was able to find nine separate pieces for my $100 bundle — three tops, two bottoms, two blazers, a dress, and a scarf — each designed to mix and match with the others. The black turtleneck with white trim at the cuffs and collar was a perfect selection for my personal taste and will seamlessly join the artillery of turtlenecks I wear practically every day through the fall and winter months.
The pairs of pants — one, a white pleated slack from Bedford Fair; the other, a gorgeous camel Nine West suit pant — delivered the clean lines of quiet luxury while providing two very distinct iterations of the trend. The white slacks will be the first thing I grab when the weather turns for the better next spring, while the camel suit pants provide an essential basic to my work wardrobe.
The standout for me: the cream scarf with olive and chartreuse trim; not only is the scarf massive, which opens up a variety of styling choices for any occasion, but the quality and the detailing are reminiscent of the ($$$) Hermès scarves that pervade this distinct aesthetic.
See similar styles to Chesak's quiet luxury thrift bundle selects here:
Bundle No. 2 By Unbothered Curations
When I found Emily Leffler's thrift hauls on TikTok, the first bundle I saw included an adorable white skort and a Burberry classic white button-up. Going through the feed for her business, Unbothered Curations, her sourcing at thrift stores across Ohio is simply unmatched, so I needed to see what she could come up with for this specific thrift bundle.
Leffler put together a bundle of 10 items — three sweaters, one coat, one blazer, one pair of pants, a belt, a scarf, a hobo bag, and a pair of heels — and I loved the accessories she was able to pack into the $100 budget. The brown square-toed heels were unexpected and in gorgeous condition, a rare feat for thrifted shoes. The strap detailing gives the heels a fun flourish, making them more than your average work shoe.
The gray Misty Harbor raincoat embodies the laissez-faire, effortless outerwear I was looking for to transition to fall, with its relaxed silhouette and D-ring strap detail on the cuffs. I've already worn it a couple times as NYC transitions into a rainy fall, both to the office and to afternoon brunch.
Leffler also included a four-button, collarless blazer with a beige, checkered fabric from none other than Henri Bendel, a New York classic that was a favorite of Fifth Avenue shoppers for years. Paired with the leather belt she also included around my waist, the blazer feels put together without feeling too fancy for everyday wear. Nothing says quiet luxury, though, quite like a pure cashmere sweater; the red crewneck she found is as smooth as butter — as any pure cashmere should be — and will be a perfect added layer for running errands once temps drop in the city.
See similar styles to Leffler's quiet luxury thrift bundle selects here:
Bundle No. 3 By Very Own Vintage
While Brittney Mojica has her sights set on medicine for her career, she's always had a knack for piecing together impeccable outfits from her and her friends' wardrobes. She recently created her styling business, Very Own Vintage, to tap into her creative side and bring her thrifting know-how beyond her own circle. Since I tasked her with styling quiet luxury, it was only fitting that I met her in the heart of the Upper East Side, a neighborhood that provided her ample inspiration when selecting each piece, to receive this bundle.
Mojica's bundle included seven pieces — two tops, two skirts, a dress, a cardigan, and a pair of loafers — with each item capturing this trend with a distinct New York flair. I was hoping one of these creators would thrift me a classic white blouse with a flourishing bow at the neck, and the top she found gives major Working Girl energy in the best sense. Paired with the burgundy faux leather skirt and loafers she also scored, I have a look that's boardroom ready with a little edge. (Shiv Roy could never.)
The streamlined chic of quiet luxury hit home in this bundle by way of a two-toned B&W shirt, as well as a long-sleeved, ribbed maxi dress. Sans brand label — as can happen with the best thrift finds — this slinky dress with slits up the sides hugs in all the right places, which will easily go from the office to date night with a simple change of shoes. For a cozy layering piece, the tan tie-belt cardigan with tortoiseshell buttons is made for an autumn stroll to spot the turning leaves in Central Park come November.
See similar styles to Mojica's quiet luxury thrift bundle selects here:
Stealth Wealth (Minus The Wealth)
Going into this thrift bundle task, I was skeptical about how far $300 total could go with a vision of quiet luxury. As it turns out, thrifting for this trend can lead to a wealth (no pun intended) of classic additions to your wardrobe. I loved that each of these bundles captured a different aspect of this aesthetic, from effortless everyday to elevated evening options. The curation felt personal to each creator, but the common line of quality and versatility under a limited budget displays the power of tasking talented thrifters with scouring the clothing racks for you.
TL;DR, Out of Retirement Vintage gave me what I probably needed most in my wardrobe, Unbothered Curations gave me exactly what I was hoping to add to my seasonal staples, and Very Own Vintage gave me what most aligns with my typical style. With hauls of pure cashmere crewnecks, like-new black loafers, Nine West slacks, and beyond, ThriftTok makes a compelling case that the thrift bundle TikTok trend will be here to stay — even beyond quiet luxury.
Sources:
Elizabeth Chesak, owner of Out of Retirement Vintage
Emily Leffler, owner of Unbothered Curations
Brittney Mojica, owner of Very Own Vintage