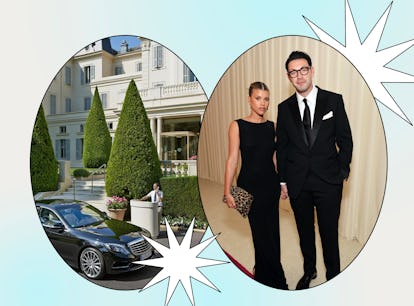 Where Was Sofia Richie's Wedding? The Luxe Venue Will Cost You
This resort in Southern France is giving White Lotus budget.
'Tis the season for couples to say "I do," and celebrities are going all out with their wedding ceremonies. On April 22, Sofia Richie walked down the aisle at her star-studded wedding to Elliot Grainge in the South of France. Not only were Paris Hilton and Sofia's sister, Nicole Richie, in attendance bringing back Y2K Simple Life vibes, but so were stars like Cameron Diaz, TikToker Jake Shane, and Good Charlotte. The latter performed at the reception along with Sofia's dad, Lionel Richie. Overall, it was the wedding of 2023 — so far — with a bougie budget to match.
The estate where the ceremony took place looked like a luxe home owned by a millionaire, but you can actually stay at Sofia Richie's wedding venue. Of course, it's going to cost you. Hotel du Cap-Eden-Roc is a luxury resort located in Antibes Cedex, and the available rooms look like something out of a White Lotus episode. Along with the 40 hotel rooms available, they also offer 68 suites and three villas for you to choose from. Whether it's worth the splurge will be solely based on how far you're willing to go for a bougie trip to France, and the opportunity to say you stayed where Sofia Richie got married and Paris Hilton vacationed.
The Hotel du Cap-Eden-Roc does offer quite a few amenities, like a Dior spa with views of the French Riviera. Book a treatment in the Dior Cabana or Dior Gazebo, while trying a Dior powered Hydrafacial ($331). If you're looking for a little more, they also offer a morning detox set that includes a yoga session in the gardens or by the sea along with a breakfast buffet. Afterwards, you have your choice of a 90 minute treatment at the spa for $717.
For anyone staying two nights, they also have a Grand Slam package that allows you to stay in one of the Tradition Rooms with breakfast each day. You also get a welcome treat when you arrive, dinner at Eden-Roc Grill, and a lunch buffet at Eden-Roc Restaurant. It's also called the grand slam, because you'll get a private tennis lesson during your stay as well. This entire package is $3,444 for two people — or $861 per person, each day.
That's actually a pretty good deal if your goal to stay at Sofia's wedding hotel. Right now, the most budget-friendly room available is a Classic Room, which is about $1,655 a night with a two-night minimum. Of course, Sofia and her hubby likely stayed in one of the villas at Hotel du Cap-Eden-Roc. The largest of the three is Villa Sainte-Anne, which sleeps up to 12 guests with five bedrooms and is $32,013 a night with a two-night minimum. That means if 12 people actually stayed there, it would cost each of them $1,334 a night.
For anyone not trying to break the bank, a trip to Hotel du Cap-Eden-Roc is likely out of the question right now. Luckily, there are plenty of TikToks and Insta posts to admire Sofia's wedding from the comfort of your couch.