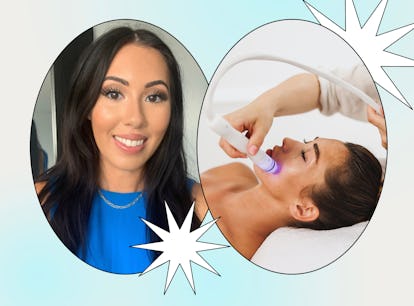 Is The HydraFacial Worth It? An Honest Review
Celebs like Beyoncé and Paris Hilton swear by the treatment.
Lara Walsh/Elite Daily/Shutterstock
SkinTok is full of DIY hacks for people looking to exfoliate, tone, steam, and even extract at home, but the most buzzy facial of the moment — the HydraFacial — claims to go one step further by using a machine to get even the hardest-to-reach gunk out of your pores. After seeing numerous influencers share their "after" canisters full of the grime that was sucked out of their skin (totally gross but also satisfying), I was curious about the HydraFacial's worked on blocked pores, blackheads, and acne compared to those of other facials — especially with a price tag that typically starts around $200. So, when I had the opportunity to try the HydraFacial for myself at Soho House's Cowshed Spa in Chicago, I jumped on it.
While I'm all about my regular skin care routine, blackheads and clogged pores are my biggest beauty woe. Plus, I definitely have more nights than I care to admit where I commit the cardinal sin of sleeping in my makeup after a night out, which definitely doesn't help the problem. After a few weeks of traveling and jet-lagged nights where I was less than attentive with my makeup and skin care routine last month, my skin was congested and breaking out (especially on my jawline where I'd worn a mask). Aka, it was the perfect time to get a refresh in the form of a HydraFacial.
I've become lazy about getting regular facials post-lockdown, so I was intrigued when the HydraFacial — which is beloved by celebs like Beyoncé and Paris Hilton — first started popping up on my radar about a year ago. In particular, the idea that a machine could suck out the gunk that no aesthetician could access manually was pretty appealing and made me wonder, just how good could my skin and my pores look if they were completely clean. I was excited to see if I was in for the best facial of my life — or if the treatment just didn't live up to the hype.
What Happens During A HydraFacial, Exactly?
Before getting started, my aesthetician walked me through what to expect from my HydraFacial, including the six different "hydradermabrasion" steps: cleansing, exfoliation, extraction, LED light therapy, infusion of antioxidants, and hydration. I was a little nervous when she said she would also be using a chemical peel to promote exfoliation and further open up my pores, but she assured me that my skin wouldn't be red or peeling as a result.
My aesthetician also told me that my HydraFacial would include a scalp massage during the LED light portion and a shoulder massage during the chemical peel as part of Cowshed's package, but this might vary depending on where you go for your treatment.
My HydraFacial Experience Was Elaborate, But Relaxing
After thoroughly cleansing my face and using a hot towel to open up my pores, my aesthetician began the hydradermabrasion process. Using the machine, she went over my skin with a wand to begin opening my pores, which had a weird suction sensation, but wasn't painful. The chemical peel, which she added on after, felt more gentle than I'd expected. I barely noticed the slight tingling on my skin, in part due to a really great deep shoulder massage that happened simultaneously.
Next, the aesthetician used the HydraFacial machine for the part I was most excited about: sucking all the grime out of my pores. Again, I felt a little suction on my skin as she went over it, and noticed that my aesthetician seemed to focus on places I'd seen pretty noticeable blackheads pop up that morning and tried (unsuccessfully) to squeeze out.
The manual extraction, which was next, felt similar to what you'd get from a typical facial, but my aesthetician said she'd have to use less pressure than normal to get blackheads to come up. However, I noticed that, despite all the prep and exfoliating we'd done, there were a few deep blackheads that she said she was unable to get out of my skin "without scarring it." I was happy that the next step was a calming mask paired with blue and then red LED light.
The LED light step was the most surprising part of the HydraFacial. Cowshed uses both blue and red LED lights, which includes benefits like reduced inflammation, fine lines, and acne/acne scars, as well as a boost in collagen production. My aesthetician warned me that the mask might feel a little claustrophobic, and that, while it wouldn't harm my eyes, I should be prepared for "the brightest light I'd ever seen." I was a little apprehensive putting the mask on, and the brightness of the blue light was overwhelming at first. While this was the most uncomfortable part of my treatment, the scalp massage helped me relax, and I felt like the LED red light portion passed pretty quickly.
Another hot towel later, my aesthetician used the HydraFacial machine to infuse antioxidants back into my skin. Instead of a suction sensation, this felt like liquid was dripping down my face and down my ears and neck. Lastly, my aesthetician used her hands to put a moisturizer on my face. At the end, I was simultaneously disgusted and satisfied seeing the HydraFacial "gunkie" canister filled with all the stuff she'd taken out of my skin.
I Felt & Saw Results Pretty Quickly
Looking in the mirror after my HydraFacial, I noticed my skin looked a little red and that some of the areas that she'd been extracting looked a little more inflamed. Some of the deeper blackheads also looked like they hadn't budged too much, which was disappointing, but my aesthetician told me that they'd start working themselves up to the surface in the coming days.
For my HydraFacial after-care, she told me to avoid anything that would heat up my skin, like working out, to hydrate, and to put on my most moisturizing lotion if my skin felt dry and started peeling.
The next morning when I looked in the mirror, I was actually shocked by how good my skin looked — it had actually never looked better. My pores looked much less noticeable, but the biggest difference was my skin texture. While there were still some imperfections, overall, my skin looked glowing, plumper, and much more youthful. All fine lines were suddenly nonexistent, and my makeup went on like a dream without settling into my pores. It was almost like my skin had a built-in primer that made my makeup look airbrushed, and I got so many compliments on my skin that night.
Over the next few days, I noticed my skin started getting more dry and patchy, and I found myself peeling off dry skin on my forehead and on my nose. However, adding a layer of moisturizing cream really seemed to help, and the incredibly glowy results lasted almost a full week for me.
Is The HydraFacial Worth It?
The HydraFacial is the most expensive facial treatment I've ever gotten, and in my opinion, it was 100% worth every penny. My skin looked noticeably better the next day and throughout the week, and weeks later, my pores and overall skin texture still looked cleaner than they were before I got it. The HydraFacial seemed like it got a lot more out of my pores than a typical facial could ever do, and I think the combination of skin-boosting LED lights and the antioxidants at the end really upped my beauty game.
I've never had a facial with such transformative results. In addition to feeling like my pores were squeaky clean, the HydraFacial also had major anti-aging properties that I hadn't expected. I was gifted this experience from Soho House's Cowshed Spa (for non-members, it's $350 for the facial including the LED Light therapy), but going forward, I'll definitely be budgeting this treatment into my yearly beauty spending.