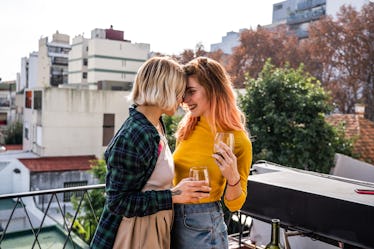 September 3, 2023 Will Be A Romantic Day For All Zodiac Signs
Is the summer of celeb breakups officially over???
Frazao Studio Latino/E+/Getty Images
There was so much to unpack the last few weeks, in large part due to Venus retrograde. Breakups, personal rebrands, and friendship fallouts have unfortunately been the vibes of the summer since the planet of love began reversing through the cosmos back in July. Although Venus retrograde doesn't immediately indicate relationship woes for all, it does tend to be a time when your dynamics with others can really be put to the test. Not only that, but smoothing things over with a loved one almost seems impossible when Venus isn't able to enforce her usual ability to handle situations with grace and diplomacy. In fact, this summer has been anything but graceful for many, especially when it comes to public celeb scandals. Luckily, things will begin to turn around in the ~ love ~ department this month for everyone, as Venus *finally* stations direct in the bold and expressive sign of Leo. While things have been anything but intimate in recent weeks, the most romantic day in September 2023 for every zodiac sign will be when Venus begins to move forward again, allowing you to leave the drama of the summer in the rearview.
While this Venus retrograde was arguably much louder (and chaotic) than the previous ones, this cosmic event actually takes place once every 18 months. When this happens, Venus retraces her steps through the sign she's retrograding through (which was Leo, this time around), bringing forth a period of revisions to how you connect, relate and seek pleasure in your life. This year, this 40-day period prompted revisions regarding how each person expresses their desires in relationships. If you were feeling unappreciated or taken advantage of, this retrograde may have prompted you to take a step back from those who may have been taking you for granted. Fortunately, as Venus stations direct in Leo on Sept. 3, you'll be able to move forward with a clearer sense of what you desire, and you can confidently ensure that you're getting exactly what you deserve (or more, in Leo fashion).
Here's how every sign will be affected during the most romantic day in September 2023:
Aries Zodiac Signs (March 21 - April 19)
On Sept. 3, Venus will station direct in your fifth house of creativity, passions, and enjoyment. If you've been feeling unsure about how to express your artistic abilities in a way that honors your authenticity, expect some clarity in this area now. You may also notice more activity in your love life now, after a brief period of idleness. It's a fortunate time for flirting and socializing, Aries, so feel free to use this energy to your advantage.
Taurus Zodiac Signs (April 19 - May 21)
Venus, your chart ruler, will finally be stationing direct in your fourth house of home and family this month. This means that the revisions you've been making behind closed doors will slowly start to come to an end, making it easier to experience pleasure and satisfaction in your environment. Expect clarity when it comes to cultivating a comfortable living space now, especially if this has been difficult for you in recent weeks.
Gemini Zodiac Signs (May 21 - June 22)
On Sept. 3, Venus will station direct in your third house of communication and ideas, making it easier to relate and form bonds with other people around your current perspectives and mindsets. As the chatty sign of the zodiac, you prioritize building relationships with others through sharing information and insight, and as Venus begins to pick up speed, this will be easier to achieve once again. If you've been going through a bit of a lull in your current studies, you may re-discover a passion for your interests now.
Cancer Zodiac Signs (June 22 - July 20)
This month, you'll be seeking pleasure and satisfaction through your money, possessions, and resources after a period of re-evaluation in this area. Since Venus retrograde began, you may have been re-evaluating how you spend your money and enjoy the fruits of your labor. However, as Venus stations direct, it'll be easier for you to indulge in the pleasures that your current assets, values or resources have to offer. Feel free to treat yourself, Cancer, but be mindful of overdoing it — Leo energy has a tendency to be a bit extra.
Leo Zodiac Signs (July 20 - Aug. 21)
Expect September to be a very romantic month for you, Leo. Now that Venus is finally stationing direct in your first house of self-expression, you'll be feeling yourself more than you have in months. Your self-confidence has likely gone through some ups and downs since July, but as Venus begins to move forward, you'll experience a surge in personal pleasure, love, and creativity. Expect this to be a very social period for you, after a time of feeling a bit isolated and unsure of how to connect with others. You may also be re-emerging as a new and improved version of yourself, making this a great time to show off the new "you" to the world.
Virgo Zodiac Signs (Aug. 21 - Sept. 22)
On Sept. 3, Venus will station direct in your 12th house of seclusion, introspection, and isolation. You've been re-evaluating how you take care of yourself in private, and on this day, you'll begin to feel more clear about how you can ensure that your needs are met. Although expressing them isn't always easy, Venus moving forward once again will make it easier to identify what you require in order to feel seen and valued.
Libra Zodiac Signs (Sept. 22 - Oct. 21)
As Venus (AKA your chart ruler) stations direct on Sept. 3, connecting and socializing with your friends and community will become effortless once again. Although the retrograde may have prompted you to re-evaluate many of your relationships, its direct station is allowing you to re-enforce your desire for companionship in a way that makes you feel seen and validated. From now on, making amends with others won't be as much of a challenge, either — and you may even find yourself smoothing things over with an estranged frenemy.
Scorpio Zodiac Signs (Oct. 21 - Nov. 22)
This month, Venus will station direct in your 10th house of career and public reputation, allowing ease and comfort to come forward in your profession. If you've been re-imagining your brand, business, or role at work, clarity is bound to come forward now. This may also be a time to launch a new creative project, or join forces with a colleague or business partner. If things in your career have been a little scandalous or chaotic in recent months, Venus stationing direct will ease some of the challenges that may have arose.
Sagittarius Zodiac Signs (Nov. 22 - Dec. 19)
On Sept. 3, Venus will finally speed up in the expressive, vibrant sign of Leo. On this day, your ability to connect with others via shared belief systems and perspectives will amplify after experiencing some shifts in recent months. If you've been uncertain about your spiritual or political stance, things should start to clear up now. It's a good time to indulge in new adventures, or things that broaden your perspectives — something you naturally live for.
Capricorn Zodiac Signs (Dec. 19 - Jan. 20)
This month starts off by providing you with some clarity regarding your current boundaries with other people as Venus stations direct in your eighth house. If you've been unsure about where to draw the line between you and another person, things should start to clear up now. This may also signify a turning point in your financial matters, offering some clarity or simplicity when it comes to shared resources, debt, or material gain.
Aquarius Zodiac Signs (Jan. 20 - Feb. 19)
On Sept. 3, Venus will finally station direct in your seventh house of romantic relationships and partnerships, offering some clarity regarding your dynamics with others. You've been invited to e-evaluated many of your connections in recent months, but on this day, it'll be easier to enjoy bonds you have with others, and express your needs openly. While you're not the biggest fan of dramatic displays of affection, it'll be easier for you to lean into that kind of intimacy now that Venus is direct again.
Pisces Zodiac Signs (Feb. 19 - March 20)
As Venus stations direct in Leo, developing healthy habits that center your pleasure and fulfillment will come with ease. After a 40-day revision period, your daily routines and rituals will now be something you enjoy without too much difficulty. Now is a good time to do something nice for yourself, like schedule a lymphatic massage, or splurge on your favorite caffeinated drink. Anything that makes your day to day a little bit better is worth the investment.