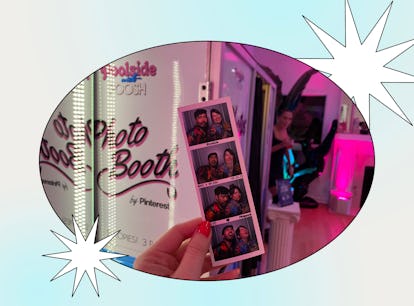 I Went To Poosh's Viral Pool Party — Here's What It Was Like
Cocktails, photo booths, makeovers, and the ultimate gift bag, of course.
Rachel Chapman/Elite Daily
We may receive a portion of sales if you purchase a product through a link in this article.
After last year's 1950s old Hollywood-themed party, Kourtney Kardashian's lifestyle brand decided to take it back to the '80s for 2023's Poolside with Poosh event. Fans who have kept up with the Kar-Jenners in their Hulu series may have seen the 2022 party in Episode 9 of The Kardashians Season 3, which included the debut of Kourtney's Erewhon smoothie, photo ops, and wellness treatments. Poosh's 2023 pool party in Malibu had similar activities for guests, but with a retro spin to them. I actually got to attend the nostalgic Poolside with Poosh event, and received an '80s glam makeover as well as the ultimate luxe gift bag to take home with me.
The early 2000s have been dominating fashion trends with the return of Y2K style low-rise jeans and mini skirts for a while now, but are the '80s making a comeback as well? That was the first question I had when I got the invite to 2023's Poolside with Poosh, which had a Miami Vice summer theme to it.
After seeing Sydney Sweeney's 26th birthday party photos and some of the retro 'fits Margot Robbie chose for the Barbie press tour earlier this year, it seems neon blazers and voluminous hair may be a thing this fall. The activations throughout the Poolside with Poosh event also had an '80s spin to them, but with the lifestyle brand in mind as well.
Inside The 2023 Poolside With Poosh Event
The annual Poolside with Poosh event was held at a mansion in Malibu that overlooked the Pacific Ocean. Upon arrival, there were retro cars from Turo in the driveway, like the DeLorean from Back to the Future, to take pics with, and we were given a map of all the different activations located throughout the home.
After grabbing some cocktails from the 818 Tequila bar by the pool and a corndog from Hot Dog on a Stick, my friend and I made our way to The Galleria Shop. Inspired by an '80s mall, the Galleria was Poosh's gifting suite at the party, which included Vacation sunscreen, Pit Viper sunglasses, Cover Girl makeup, Sally Hansen nail polish, shoes from Circus NY, and Lemme gummies.
I've been wanting to try Kourtney's Lemme gummies since their debut, so this was like a dream come true for me. You could shop for one of each item, but things were going quickly. Luckily, we got there pretty early so the only item we missed out on were accessories from Pucci.
Afterwards, we made our way to the Adidas Rec Room upstairs that had tracksuits you could customize with your choice of embroidery. Next to the Rec Room was the REHAB hair salon, so after getting a blue tracksuit, I signed up for an appointment to get an '80s messy bun hairstyle.
Some activations like the hair salon and birth chart readings with KJ Atlas required appointment times, so I didn't end up getting my reading about what it means to have an Aquarius sun, Capricorn rising, and Libra moon. Others were less busy and you could just walk in and enjoy. That was the case with the The Makeup Counter by Covergirl and The Nail Lounge by Sally Hansen, which I took advantage of as well. I even stopped by where Dr. Natazia zu Stolberg was doing ear seeding, which looked like acupuncture stickers that go in your ear and help with everything from digestive support and stress.
Unfortunately, because I got my makeup done, I didn't get a facial from the The Glow Spa by Valmont. I also missed out on chair massages by Milk + Honey and a breathwork session by Kira Mae Kazuko, because there just wasn't enough time to see everything.
Whenever I did have time in between an appointment, I stopped by the Food Court for snacks from Daring, Hot Dog on a Stick, Primal Kitchen, and of course, milkshakes from Shake Shack. The Pinterest Living Room was also a great spot to capture content for the 'Gram with '80s furniture and a vintage photo booth.
When it was time to go home, each guest was given a blue, purple, or green Free People Movement Quilted Carryall ($68) swag bag filled with Poosh-approved products. Below is everything found in my bag, minus a Poosh pre-roll from Drew Martin, that comes to an estimated retail value of $1,824.
Everything Inside The Poolside With Poosh Bag
This also doesn't include what I picked up from the Adidas Rec Room, Galleria Shop, and CoverGirl Makeup Counter. That ups the retail value of the swag to about $2,632 with an Adidas tracksuit ($170), Adidas Superstar sneakers ($100), Pit Viper sunglasses ($70), Circus NY loafers ($100), Casio calculator watch ($70), Vacation Baby Oil ($22), a Nia Lynn swimsuit ($154), and assortment of CoverGirl makeup and Sally Hansen products (~$122).
The 2023 Poolside with Poosh party was like getting a glimpse into what living the Kardashian life would be like. While none of the Kar-Jenners actually made an appearance at the party — that I'm aware of — I still had a rad and relaxing time going back in time to the '80s. I wouldn't mind if a little Bon Jovi and Working Girl made a quick comeback, especially if it has Kourtney Kardashian's blessing.