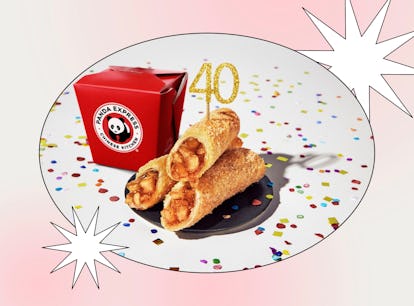 I Tried Panda Express' Apple Pie Roll & The Texture Was Surprising
The chain's first-ever dessert item is just $2.
While they're most know for their orange chicken, Panda Express is finally serving up some dessert — and it only took them 40 years to do it. The Panda Express Apple Pie Roll is the company's first-ever dessert menu item, and it was made to be like an egg roll with an apple pie filling. As someone who's a fan of both of those things, I had to try it to see how well this combo worked IRL.
The Apple Pie Roll is on Panda Express' menu as either a small one-piece order ($2) or a large six-piece ($11). The rolls are the size of a skinny egg roll, so six was a bit much for me but perfect for sharing with a group. I decided to eat two to really settle on my review, and felt satisfied when I was done.
Panda Express' Apple Pie Rolls are made with a crispy wonton wrapper that's covered in cinnamon sugar and stuffed with the apple pie filling. With fall finally here, I've been craving apple pie more than ever. IMO, the perfect slice should contain plenty of spice and have a nice crunch from the apple pieces. While there was definitely a lot of cinnamon sugar on these Apple Pie Rolls, the filling was surprising.
Panda Express' Apple Pie Roll Review
The first thing I noticed about Panda Express' Apple Pie Roll is that it truly is covered in cinnamon sugar. It reminded me of a cider donut from a farm upstate or a cinnamon pretzel from the mall — both of which I love. However, it does get pretty messy, so make sure to grab some extra napkins. The cinnamon sugar got all over my pants and fingers, but I was happy to have tons of it on the rolls to add more flavor.
You could even say the cinnamon was the main flavor, because the apple in the filling wasn't very strong. I was really hoping for a tart apple, but it was more subtle and the bits of fruit weren't crunchy at all. They did, however, add some texture, which was necessary since the filling was very slimy. There's no better way to describe it, and the consistency was what stood out to me the most with these rolls. If you don't like surprising food textures, this is a warning that the Apple Pie Roll is as gooey as tapioca.
It definitely threw me off at first, but I still enjoyed the Apple Pie Roll overall. The flaky wrapper helped to bring in the crunch I was hoping for with the apples, and the cinnamon did satisfy my need for a nostalgic fall flavor. While it's not my favorite fast food dessert item — I am a huge fan of a Wendy's Frosty or Arby's cherry turnovers — it did get me excited about what's to come at Panda Express. The Apple Pie Rolls are just the first dessert item, and hopefully, not the last.