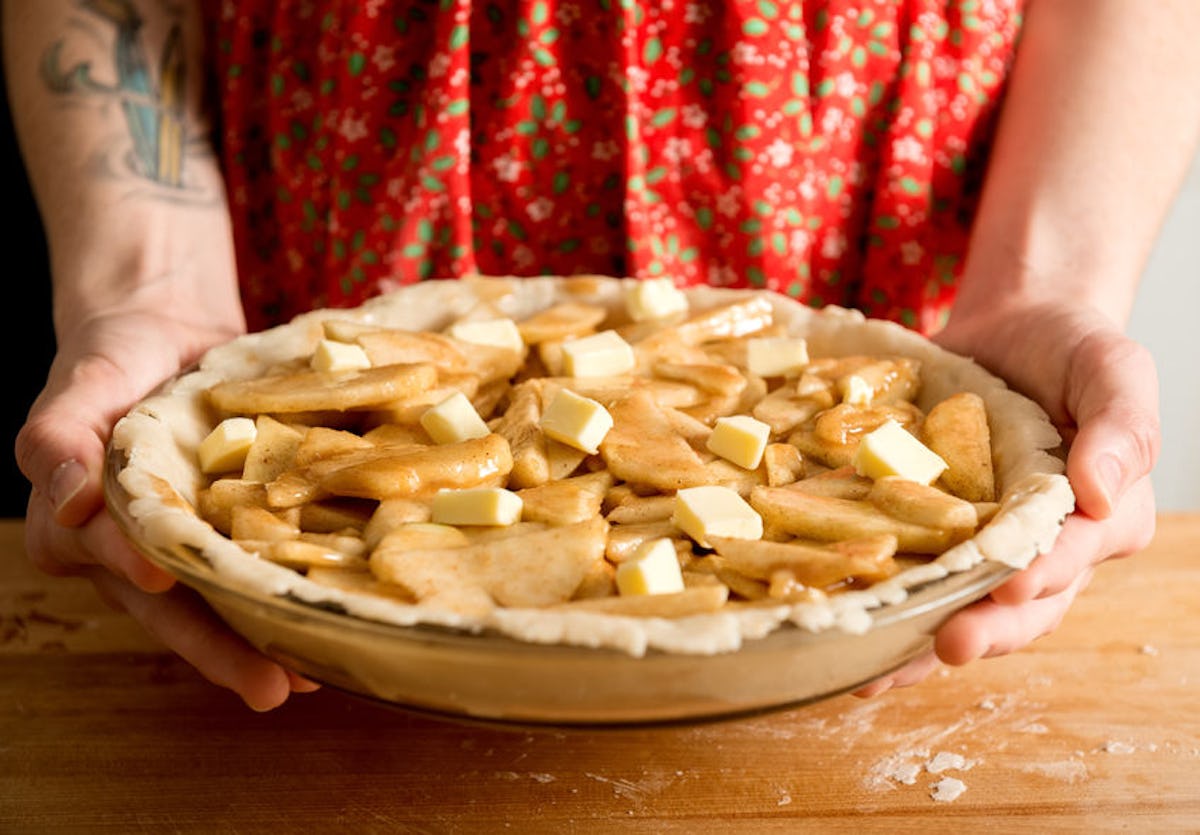 30 Clever Captions For Apple Pie Pics That'll Steal A Piece Of Your Heart
Fall is apple picking season, and after you've filled up your basket with the best in the orchard, the only logical thing to do next is to make apple pie. Don't get me wrong: I love every type of pie the holiday season has to offer. Give me a slice of pumpkin, banana cream, sweet potato, or pecan, and I'm content — but I really only have pies for that sweet cinnamon apple pie. It's an American classic that's best served year-round. Add some French vanilla ice cream on top, and I'm in heaven. So, if you plan on having any apple pie this fall, you'll need some Instagram captions for apple pie pics.
Let's be honest: You and your girl crew already have plans to go apple picking this weekend. You'll snap action shots and boomerangs of each other reaching for the best produce in the orchard. Afterwards, continue the fun by using those apples to have a baking party girls' night in. You'll whip up the most Insta-worthy goodies out there.
Before digging in, snap a foodie pic first. Post to the 'Gram right away with any of these 30 apple pie quotes that'll be the a la mode to your snaps. Then, you'll finally be free to grab your fork for an apple-y ever after bite.
1. "You are the apple of my pie." — Unknown
2. "Bake the world a better place." — Unknown
3. "I only have pies for you." — Unknown
4. "Apple pie totally counts as a serving of fruit." — Unknown
5. "You want a piece of me?" — Britney Spears, "Piece Of Me"
6. "Good apple pies are a considerable part of our domestic happiness." — Jane Austen
7. "I'm as American as apple pie." — Paul Mooney
8. "This pie and I will live apple-y ever after." — Unknown
9. "I love this apple pie to the core." — Unknown
10. "I couldn't have picked better friends to enjoy apple pie with." — Unknown
11. "Autumn skies and apple pies." — Unknown
12. "Cut my pie into four pieces, I don't think I could eat eight." — Yogi Berra
13. "Conversation was irrelevant. Only pie mattered." — Richelle Mead
14. "Then I'm sorry to say, I've eat your pie." — Charles Dickens
15. "If you wish to make an apple pie from scratch, you must first invent the universe." — Carl Sagan
16. "I've got all the in-cider information on this pie." — Unknown
17. "Always look on the bright cider life." — Unknown
18. "Yippie pie yay!" — Unknown
19. "Feast your eyes on this!" — Unknown
20. "Piece out." — Unknown
21. "I have fillings for you." — Unknown
22. "Pies before guys." — Unknown
23. "You're a cutie pie." — Unknown
24. "Apple pie, you'll always have a piece of my heart." — Unknown
25. "I'm trying to be humble, but I can't help it. This pie is really good." — Unknown
26. "Slice, slice baby." — Unknown
27. "I find this pie very a-peel-ing." — Unknown
28. "I'm red-y to eat this pie." — Unknown
29. "All my friends are sweetie pies." — Unknown
30. "I hope your apple pie is freakin' worth it." — Dean Winchester, Supernatural