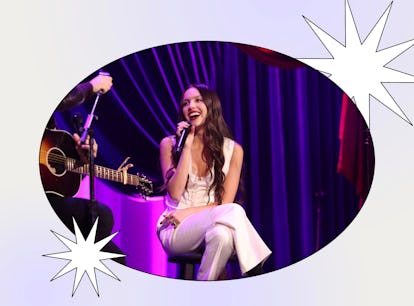 I Went To Olivia Rodrigo's Surprise LA Show & She Spilled Her Guts
She almost didn't put this song on the record — and I'm shocked.
Olivia Rodrigo is set to kick off her GUTS tour in February 2024, but as a warm-up to the big show, she performed a surprise concert in LA on Oct. 9. The Rodrigo concert event was announced on Sunday as part of American Express' Member Week, and tickets went on sale just hours after it was posted on Rodrigo's official fan account's IG. I was lucky enough to get tickets, and the entire experience just made me even more excited for the tour next year.
Not only did Rodrigo play songs live off GUTS for the first time, but there was also free matcha, photo ops from her "bad idea right?" music video, and a Q&A section of the show. Rodrigo's producer, Dan Nigro, joined her onstage for the performance, and it was cool hearing the two share stories of their writing experience and how songs off GUTS came to be.
I was actually shocked at some of the confessions, like when Rodrigo admitting to drinking wine in a NYC restaurant and how the song "Lacy" was originally a poem she wrote for a class at USC. The entire American Express Presents: An Evening with Olivia Rodrigo show is available for Livies to watch on her YouTube channel from Oct. 10 at 8 p.m. ET to Oct. 12, but here's an inside look at what it was like going to Rodrigo's surprise show in LA.
Inside Olivia Rodrigo's Surprise GUTS Show In LA
Dan Steinberg & Mark Von Holden for American Express/AP Images
Right as you entered The Theatre at Ace Hotel in downtown LA, there were photo ops for fans like GUTS details on the mirrors for selfies. They also had a merch table with some exclusive items like a tee that said "I spill my GUTS in Los Angeles" ($40) and a "spill ur guts in LA" hoodie ($80). If this a preview of the tour merch to come, you'll definitely want to start saving your money now. Even the hats and beanies were $40 each, which is bit of a splurge but a little more reasonable than $30 socks.
The venue also had two retro photo booths for you and your BFF to take pics in, and a photo moment inspired by the "bad idea right?" music video with vanity mirrors you could pretend to get ready in with lipstick. If you went upstairs, they also had a table handing out out free matcha lattes from Midori Matcha. At the end of the night, there was a "late night bite" taco truck outside and each guest was given a reusable glass cup with Rodrigo's logo on it as well.
The Insta-worthy GUTS experiences and seemingly endless matcha were definitely highlights, but everyone was there to see Rodrigo perform.
Olivia Rodrigo's Surprise Concert Included Some BTS Stories From The Making Of GUTS
Rodrigo and Nigro took to the stage just a little after 8 p.m., and kicked off the show with GUTS' first single, "vampire." During the Q&A section, Rodrigo admitted that the first song she was hoping to release from the album was "teenage dream" on her 20th birthday on Feb. 20. Nigro was more of a fan of "bad idea right?", but they both said that "vampire" was ultimately the right choice.
After "vampire," the two sat down to talk about writing the album and where they got inspiration. At the time, Rodrigo was attending the University of Southern California, and one of her classes was a "poetry class" where she wrote "lacy." After sharing how the song came to be, Rodrigo performed the track off the album, which was a first for fans. In fact, most of the set list included songs that haven't been performed in front of audience before, so it felt like a dress rehearsal for the GUTS tour.
The audience was treated to "ballad of a homeschooled girl," "the grudge," "teenage dream," "get him back," and "all-american b*tch," which Rodrigo shared is the song she's most excited to play on tour. During the Q&A, she also said "the grudge" was the song she cried to the most while recording, and it was almost left off the album entirely. "We debated for a while," she shared. "We were like, 'Maybe we don't put 'the grudge' on the record and we put 'obsessed' on the record instead.'" Since "the grudge" is in my top three song on the album, I was shocked at that confession. Luckily, "the grudge" stayed.
Along with BTS confessions, Rodrigo and Nigro poked fun at all the drama surrounding her songwriting credits and Taylor Swift feud rumors. At the end of her final track on the record, "teenage dream," you can hear the two talking with Nigro's daughter Saoirse, who didn't get credit for being featured. "There's gonna be some issues there," Rodrigo quipped. She also shared that because she's cried so much while recording each of her albums, the third one will be titled CRYZ — "Cry with Z at the end, four letters."
To finish off the night, Rodrigo performed one song off her debut album, SOUR. But instead of a hit like "good 4 u" or "drivers license," she went with "traitor," which happens to be my favorite track off the record. So, that was a nice way to end a perfect evening with my favorite homeschooled girl.