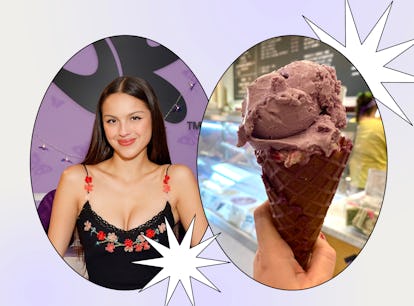 I Tried Olivia Rodrigo's Go-To Ice Cream Order Inspired By GUTS
Treating yourself is never a bad idea, right?
Mike Coppola/Getty Images Entertainment/Getty Images/Rachel Chapman/Elite Daily
Sophomore slump, who? Olivia Rodrigo has proven that this homeschooled girl is going nowhere. The marketing for Rodrigo's second album GUTS, which was released on Sept. 8, can be seen everywhere from Target and Spotify to a GUTS gallery experience in NYC. To celebrate its release weekend, fans also had a chance to sink their vampire-like teeth into some purple GUTS-inpired waffle cones at Jeni's Splendid Ice Creams. The menu also included Rodrigo's ice cream order, which I got to try.
While the purple Buttercrisp Waffle Cones were only available for GUTS' release, Rodrigo's order at Jeni's is still available for Livies to get. The cleverly named Home Scooped Girl, inspired by Rodrigo's song "ballad of a homeschooled girl," is a scoop of the Wildberry Lavender and Brambleberry Crisp ice creams on top of a waffle cone. Jeni's also had a Take Her Home ice cream on their GUTS menu, which includes a pint of the Wildberry Lavender and Brambleberry Crisp for you to, well, take home with five waffle cones. Out of all the flavors that Jeni's offers, these two were definitely the most purple, so it makes sense that Rodrigo, who has taken on the royal shade as her own, would gravitate towards them. Here's what Rodrigo's GUTS ice cream order from Jeni's tastes like.
Jeni's Olivia Rodrigo GUTS Ice Cream Review
Confession time: I always try the Wildberry Lavender and Brambleberry Crisp with a sample scoop when I go into Jeni's, but then, I end up just getting one of my actual go-to flavors instead. I like the taste of both of them, but I am also wary of their strong flavors clashing with whatever other scoop I choose to get. So, I was initially hesitant about putting them together on one cone — even if they match in color.
However, once I took a bite, I was pleasantly surprised to find out that these two flavors really paired well together. Just like Rodrigo's impeccable Y2K fashion aesthetic and ability to write bop after bop, she's proven here that she's also a skilled foodie. The floral Wildberry Lavender wasn't distracting from the fruity Brambleberry Crisp underneath, and going from one flavor to the other flowed just as well as listening to the GUTS album from start to finish. In fact, after I finished, I was wondering if it was a bad idea to go for seconds right away.
The nice thing about Rodrigo's order is that these are two staple flavors you can almost always find at Jeni's, so it's still possible to order the Home Scooped Girl if you're a fan. You could even order it to celebrate getting GUTS tour tickets. The only thing you'll be missing out on is the GUTS purple cone. I'll admit the purple cone was fun, but the color wasn't as vibrant as I would have liked. Also, the shade of the cone didn't affect the taste at all, so you're not missing out by just getting a regular one.
Rodrigo's ice cream order from Jeni's is just as delicious whether you get it in a cone, a waffle bowl, or a cup. So, say goodbye to SOUR's strawberry ice cream in Malibu, because it's now the Wildberry Lavender and Brambleberry Crisp ice cream era of GUTS.