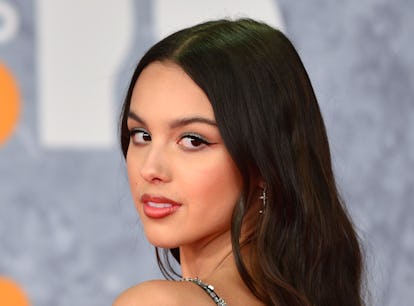 Olivia Rodrigo's Fashion Evolution Will Have You Singing "Jealousy Jealousy"
Jim Dyson/Redferns/Getty Images
Despite only skyrocketing to mainstream music fame in 2021, Olivia Rodrigo has already undergone such a style evolution. From her days on High School Musical: The Musical: The Series (and even before that) to now serving as a fashion staple on red carpets, Rodrigo is a powerhouse of vocals and fashion, especially when it comes to her amazing Y2K aesthetic and unending ability to rock everything she touches.
Ever since the initial release of Driver's License, Rodrigo's life has been on a fast track. It's hard to believe that only two years ago, you likely didn't even know who she was, and now Rodrigo has seven Grammy nominations. Driver's License may have been her nationwide debut, but Rodrigo has been in the public eye much longer than you might have realized. In fact, her red carpet looks go all the way back to 2015. From the time she was 12 years old to now at 19, her fashion has grown and changed a lot, but it's always been on point. Her penchant for patterns, bright colors, and unflinching ability to remain unique and creative when it comes to her fashion choices has only become more potent over the years.
Check out your favorite Gen Z icon's style evolution below. If you thought you knew all of Rodrigo's best 'fits over the years, prepare to be surprised — there are for sure some amazing looks you've definitely have not seen before. You especially won't believe how she turned it out at the 2022 Met Gala. Purple for days.
No matter what year it is, you know Rodrigo's bringing the drip.
Additional reporting by Elite Daily editors.
This article was originally published on