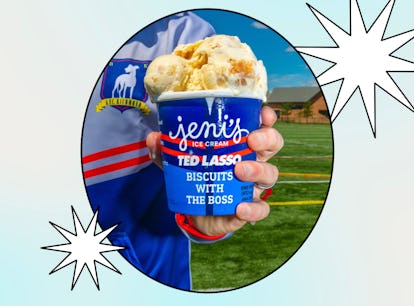 I Tried Jeni's Ted Lasso Ice Cream, & These Biscuits Are Life
Now you can find out what the mysterious treats taste like.
Jeni's Splendid Ice Cream/Elite Daily
When it comes to popular feel-good TV shows, Apple TV+'s Ted Lasso hits it out of the park. With the slogan "Believe" as its tagline, the award-winning series follows an American football manager as he coaches the AFC Richmond's underdog soccer team and wins over its owner, Rebecca. In addition to his signature charm, Lasso's mysterious biscuits are key for breaking through his boss's icy demeanor, and Jeni's Splendid Ice Creams is doing a riff on the treat ahead of Season 3's premiere on March 15. I decided to try Jeni's Ted Lasso ice cream collab to see if the "biscuits with the boss" experience lives up to the hype.
Available for a limited-time while supplies last, Jeni's Ted Lasso Biscuits With the Boss ice cream flavor comes in a blue and red pint that's designed to look like an AFC Richmond jacket, down to a zipper down the middle. As a big fan of Jeni's Splendid Ice Cream butter-inspired flavors (Brown Butter Almond Brittle is one of the best ice creams out there, IMO), I was high-key excited to taste the brand's Ted Lasso collab, which is a frozen treat "inspired by the biscuits coach Ted Lasso bakes for his boss every day," according to Jeni's website.
Jeni's Ted Lasso Biscuits With The Boss Ice Cream Review
At first glance, I thought the scoops looked similar to the brand's Ooey Gooey Butter Cake flavor. Taking a bite, I was immediately hit by the complementary sweet and salty components of the treat. In addition to a rich salted butter sweet cream ice cream base, the Ted Lasso collab features chunks of shortbread cookies throughout, which added extra buttery sweetness and a crumbly texture to each scoop. I'm not normally the biggest ice cream person, but I felt like the flavors really married well together, and I went for a second mouthwatering bowl after I was done with my first.
At $12 a pint, which is the same as Jeni's other ice cream flavors, I definitely think this tasty recipe is worth adding to your freezer if you're a fan of the sweet and salty combo, and a buttery sweet cream base. It tasted rich without being too decadent, and I also think it would pair well with fresh strawberries or raspberries that would add some tartness. If you also want to get in on the "conversation-worthy" flavor, you can order Jeni's Biscuits with the Boss online, visit a scoop shop, or choose local delivery to see which retailers carry it near you.