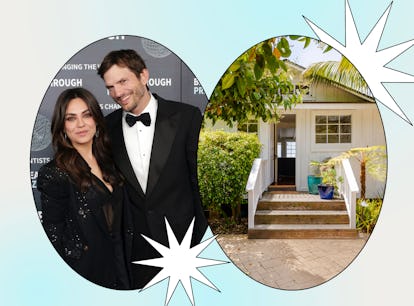 Mila Kunis & Ashton Kutcher's Home Is On Airbnb For A Beach Vacay
The free guest house stay includes hanging out with the couple.
Anna Webber/Getty Images Entertainment/Getty Images/Katya Grozovskaya/Elite Daily
Mila Kunis and Ashton Kutcher are the latest celebs to open the doors to their home on Airbnb. Similar to Gwyneth Paltrow's Goop-inspired getaway in Montecito, the That '70s Show stars have listed their guest house in Santa Barbara County, California for a special one-night stay that fans can book for free. Unlike Paltrow's stay, which takes place in September, Kunis and Kutcher's beach house rental is only available three days after the booking window opens, so you'll want to act fast. If getting some rest and relaxation where the Friends with Benefits and No Strings Attached actors call home sounds like a dream come true, here's everything you need to know about Mila Kunis and Ashton Kutcher's oceanfront oasis on Airbnb.
On Aug. 15, Kutcher posted an adorable video of the happy couple sitting outside of their beach house in Santa Barbara. In the video, Kutcher pitched the "dumb idea" that the two should have "complete strangers come" and stay with them at their guest house on the beach. Kunis responded, "Like in real life," as if she was being Punk'd by the OG prankster. The two settled on listing their home on Airbnb, because whoever books it will "like it" — and the rest was history. Not only will the lucky guest who books Kunis and Kutcher's Airbnb enjoy a beachy vacay, but the actor shared in his IG caption that they'll "leave like we're old buds!" If you've ever thought you'd be a great addition to the That '70s Show crew, here is your chance to hang with Jackie and Kelso.
How To Book Mila Kunis And Ashton Kutcher's Airbnb In Santa Barbara County
The booking window for Kunis and Kutcher's home begins at 10 a.m. PT on Aug. 16. That means if you want to be the one to reserve a home for you and your friends, you'll need to do it ASAP since the reservation will happen on a first come, first serve basis. Luckily, this stay is completely free, just like Paltrow's home, so you won't need pay for anything except your travel to Santa Barbara.
However, you will need to start packing if you end up being the lucky booker. Kunis and Kutcher's Airbnb stay is scheduled for Aug. 19. It's a one-night stay for up to four guests, and includes a few added perks.
What's Included In Mila Kunis And Ashton Kutcher's Airbnb Stay?
When you arrive at Kunis and Kutcher's Santa Barbara beach house, the couple will be there to greet you. They will make sure you have everything you need for your stay, including meals and snacks. From there, you can enjoy the beach house or even head to the shore.
This "home away from home" for the couple is apparently where they like to escape to for a stress-free vacay. It's right next to the beach, but also provides gorgeous views of the Santa Ynez mountains. So, you've got a little bit of mountain and beach. In fact, your guesthouse stay will not only include drinking coffee on the beach and soaking in the hot tub, but also a hike to take in the views from above. You could also go for a walk to check out the local shops that are just steps away from the house, or enjoy a night in with board games and charades.
When you're not enjoying the SoCal sun with your besties, you'll get to "capture some content" with Kunis and Kutcher so you can remember your stay at their guest house for forever. It truly does sound like you'll come in as strangers, but leave as besties.