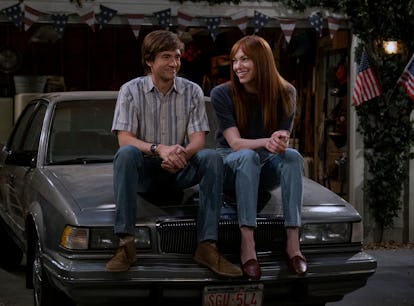 That '90s Show Is Packed With Groovy That '70s Show Easter Eggs
Patrick Wymore/Netflix © 2022
From the moment That '90s Show was announced, fans needed to know how much That '70s Show would influence the new series. The original series (which premiered in the late 1990s) was an instant hit for Fox, and its rise back to the top for a new generation during the 2020 lockdowns proves the show is a timeless classic. Considering the sheer amount of That '70s Show Easter eggs in That '90s Show, the series' creators know it too.
Warning: Spoilers for That '90s Show follow. The premiere episode of That '90s Show is set 19 years after the original series, which began in 1976. Eric and Donna visit Red and Kitty on the weekend of July 4, 1995, bringing their daughter, Leia, with them. Leia, 14 (which puts her birth a year after the end of That 70s Show, the finale of which was set on Dec. 31, 1979), is seeking independence from her folks, so when she meets Gwen and Nate, who live next door in Donna's old house, they convinced her to ask to spend the summer there.
Kitty, suffering from significant empty nest syndrome, agrees at once. In sweet revenge on his dad, Eric tells Leia that she and her new friends should spend all their time in the basement of the Forman house, thus ensuring a new generation of antics to irk Red. Leia's new friends include next-door neighbors Gwen and Nate, Nate's girlfriend Nikki, Jay Kelso (who is very much like his father, Michael), and Ozzie.
Although the group experiences things that could never have happened in the 1970s (raves and personal computers, to name a few), the references to the original show are everywhere. Here's a rundown of the biggest Easter eggs.
All episodes of That '70s Show are streaming on Peacock. All episodes of That '90s Show are streaming on Netflix.