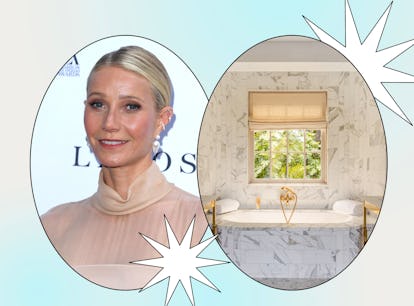 Gwyneth Paltrow's Home Is On Airbnb For The Ultimate Goop Retreat
The free booking also includes dinner with the actress.
Steve Granitz/FilmMagic/Getty Images/Stephen Paul/Elite Daily
Gwyneth Paltrow may be most known as an actress and mother to look-alike daughter Apple Martin, but the Shakespeare in Love star has also been making waves in the wellness world as the founder and CEO of Goop since 2008. What started as a newsletter from Paltrow has turned into a lifestyle brand that is responsible for the viral "This Smells Like My Vagina" candle. Now, the actress is opening the doors to her Montecito home in California in an effort to "make the world a little less lonely." For one night only, two lucky guests will get a chance to stay at Paltrow's Goop-inspired Airbnb for free.
Not only will Paltrow be there to greet you, but she shared on Instagram all the ways you can enjoy your time in her one-bedroom guesthouse. "While we may begin as strangers, I hope we'll find connections and commonalities over a delicious meal," reads Paltrow's Airbnb tour caption. Of course, a stay at Paltrow's Airbnb means that you'll also be treated to some of her favorite products from Goop. Think of it as "the ultimate Goop retreat," which will take place on Sept. 9. Paltrow shares on Airbnb that her guesthouse is where she goes "to recharge," "daydream" about new products at Goop, and to "reconnect" with her family and friends.
If you're looking for a "sanctuary for respite and mental clarity," here's everything you need to know about booking Paltrow's Airbnb stay.
How To Book Gwyneth Paltrow's Airbnb In Montecito
Similar to other unique Airbnb stays like the Barbie DreamHouse in Malibu (or, shall I say Ken's Mojo Dojo Casa House), this booking is available on a first come, first served basis on Aug. 15. If you want to make sure you and your bestie are the ones who get to call Paltrow's home your own, be sure to log in ahead of time and be ready at 10 a.m. PT when the booking window opens. The best part is the Airbnb stay is totally free.
The one-night stay at the Goop Airbnb is for two guests on Sept. 9, and includes tons of amenities.
What's Included In Gwyneth Paltrow's Airbnb Stay?
As host, Paltrow will be there when you arrive to make sure her guesthouse has everything you need. The home has a gorgeous soaking bathtub that you can take advantage of for an at-home spa day. Paltrow will be providing Goop products, which includes an exfoliator, shampoo, and conditioner, and she says, "Your skin is going to be better when you leave than when you came."
Your stay will also include a guided transcendental meditation session, and you'll have access to the pool in the backyard, which will be nice to enjoy in the SoCal sun. The home also has a wood burning fireplace, mini bar, high ceilings, and Goop-inspired snacks to hold you over before dinner. At night, you'll share a meal with Paltrow and her husband, Brad Falchuk, that is inspired by Goop Kitchen. In her Airbnb tour, Paltrow says you can have your pick of wine from their home to enjoy with your cozy meal. Before you leave, you'll be treated to "an abundance of Goop products" to take home.
According to the Marvel Cinematic Universe actress, Paltrow has everything "set up and ready" for you to enjoy on your free getaway. She says, "I cannot wait to host you in the guesthouse."