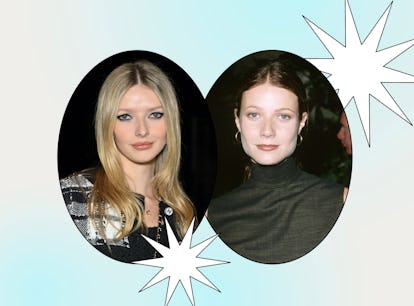 Apple Martin Is The '90s Version Of Gwyneth Paltrow In This New Family Photo
They both take after Paltrow's mom, Blythe Danner.
Steve Granitz/WireImage/Getty Images/Stephane Cardinale - Corbis/Corbis Entertainment/Getty Images
Gwyneth Paltrow and Apple Martin sit in a class of mother-daughter duos that could pass for twins. That look-alike club — which features doppelgängers like Reese Witherspoon and Ava Philippe; Cindy Crawford and Kaia Gerber; and Jennifer Garner and Violet Affleck — is mind-blowing, especially when these stars casually remind fans of their similar genes through family photos. Paltrow and Apple did the latter, once again proving they're spitting images of one another.
On July 15, Paltrow hosted an intimate dinner alongside Gucci and her Goop brand. The small event, which was held at her home in the Hamptons, was in celebration of Gucci's new Summer Stories collection and Goop's latest Youth-Boost Peptide Serum. Paltrow shared moments from the dinner on Instagram, and it's clear this get-together was a family affair.
In the first photo, Paltrow posed with her mom, Blythe Danner, and Apple under an arch of flowers. This generational portrait is stunning to see, as fans can see flecks of mini-resemblances between the three. It's clear that Paltrow slightly took after her mom, while Apple (whom Paltrow shares with ex-husband Chris Martin) full-fledged embraces her mom's features.
One user noted such, and commented that Apple looks similar to the paintings Francesco Clemente drew of Paltrow for her role in 1998's Great Expectations. In the film, Paltrow stars as Estella, a siren-eyed love interest of a painter named Finn (played by Ethan Hawke). Aesthetically, Paltrow's character has a minimalistic, neutral wardrobe similar to her own G Label clothing brand. Think work chic, with enough quiet luxury that can also be worn to a late dinner. Apple proved this, as Glamour reports her strapless black dress is from her mom's label.
As for other guests, stars such as Jerry Seinfeld, Jimmy Fallon, Rachel Zoe, and Paltrow's husband Brad Falchuk attended the dinner. This isn't the first time Apple and Paltrow flexed their lookalike genetics. Last month, the actor shared a photo of her 19-year-old daughter wearing her gothic-hemmed Alexander McQueen gown from the 2002 Oscars. With Apple donning Paltrow's vintage and newer apparel, it's clear she's her mom's biggest supporter.
This article was originally published on