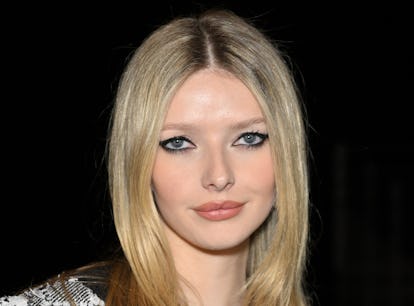 Apple Martin Wore Gwyneth Paltrow's 2002 Oscars Gown
Like mother, like daughter.
Stephane Cardinale - Corbis/Corbis Entertainment/Getty Images
Let's be real: Snooping through your mom's closet is a daughter's right of passage, but it takes on a different meaning when your mom happens to be Gwyneth Paltrow and her closet includes gowns from Alexander McQueen. On June 15, Gwyneth Paltrow shared a photo of her 19-year-old daughter Apple Martin (whom she shares with Coldplay frontman Chris Martin) trying on one of her old Oscars dresses — and in the pic, Apple looked just like her mom.
OK, so Gwyneth didn't share this little BTS moment completely unprompted. During an Instagram Q&A, one of the actor's followers asked her, "does apple ever wear any of ur fashion archives?" In response, she posted a pic of Apple wearing the gown while standing in her mom's luxurious walk-in closet. No further explanation required.
The gown was Gwyneth's choice for the 2002 Oscars. Designed by Alexander McQueen, it features a sheer, ruched top with a full black skirt. Gwyneth herself called the look one of her "worst" in a Goop Q&A in 2013, per Huff Post. When discussing the "goth Alexander McQueen" look, she explained that although she "still love[d] the dress itself," she wished she had made some different styling choices. "I should have worn a bra, and I should have just had simple beachy hair and less makeup. Then, it would have worked as I wanted it to — a little bit of punk at the Oscars," she said at the time.
However, in 2021, Paltrow changed her tune about the look. During an interview with Vogue, Paltrow recalled how she felt about the gown. "Everybody really hated this [dress] ... but I think it's kind of dope. I'm into it," she explained, per InStyle. "I had a weird hangover about it for a while because people were really critical. I think at the time it was too goth, I think people thought it was too hard, so I think it sort of shocked people. But I like it." Seems like her daughter feels the same.
Apple might not be an actor like her mom or a musician like her dad, but she's still making a name for herself. In January, she joined Chanel's group of it-girls, sitting front row at the fashion house's Paris Fashion Week show — perhaps an Alexander McQueen show is next on the list.