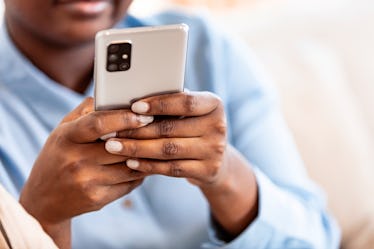 How To Text Your Boss If An Emergency Comes Up And You Can't Make It To Work
You don't have to share any details you're not comfortable with.
ljubaphoto/E+/Getty Images
Sometimes, life gets serious. You can't always plan for a loved one to need you on a Monday morning or for unexpected situations to pop up in your life. To add to the stress, you also have to think about work if a situation calls for you to be elsewhere. You've likely spent some time fine-tuning your professional communication skills, but figuring out how to tell your boss about a family emergency can still feel really unclear, especially if you've never done it before. Though you can't plan for an emergency, you can be confident the next time you have to text your boss in a particularly sticky situation.
If your absence will affect a team working on a larger project, then you'll definitely want to fill in more people than just your boss. It can also be a good idea to confide in a coworker who you know well and are comfortable with, who can relay a larger message for you to the rest of your team. The point is, once you enter the working world, life isn't just about you anymore; you're likely a part of something bigger, a group of people working toward a larger goal, or have people relying on you in some aspect.
That said, work shouldn't necessarily be the top priority in your life. It's OK to have friends and loved ones come first. "The main thing is to keep the main thing the main thing!" Nigel Marsh, CEO of strategic consultancy at WEST82nd and host of The Five Of My Life podcast, tells Elite Daily. "Put the people you love at the center of your life — don't leave them at the edges. Family first. Always."
To figure out the best way to handle a last-minute absence from work and how to tell your boss you can't come in, Elite Daily reached out to experts on the topics of trauma and relationships for their guidance. Work-life balance takes on a whole new meaning when you realize you might have to actually text your boss in an emergency.
Knowing how to call out of work for an emergency is a useful skill to keep in your back pocket. Of course, the best-case scenario would be that you never have to use it, but things happen and it never hurts to be prepared. As long as you are professional and concise, this should be one less stressor in your life during chaotic life moments.
Experts:
Nigel Marsh, CEO of strategic consultancy at WEST82nd and host of The Five Of My Life
Joshua Klapow, Ph.D., licensed clinical psychologist and author of Living SMART: Lifestyle Change Made Simple
This article was originally published on